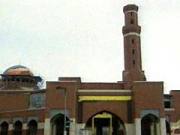 Worshippers at the Islamic Society of Boston (ISB) still pack into their cramped mosque in Cambridge, Mass. The crowd spills out into the parking lot for the Friday prayer service. Their hopes of celebrating this past Ramadan in a brand-new mosque and cultural center were dashed.
The stated aim of the quarter-century-old society was to build a center for worship, education, and community outreach. Instead, the $24 million project in Boston's Roxbury neighborhood is snarled in accusation, acrimony, and lawsuits. It's a microcosm of the suspicions about Islam that have played out across America since 9/11.
After the city of Boston conveyed a parcel of land to the ISB, articles appeared in the Boston Herald in 2003 linking society leaders to Islamic extremists. The ISB denied the story, responding in detail to what it saw as inflammatory distortions. "When you place a picture of Osama bin Laden next to a picture of our mosque, that is completely misrepresentative of who we are," says Salma Kazmi, assistant project director.
Four years after 9/11, mosques in many communities continue to encounter wariness and resistance ranging from suspicions raised at zoning hearings to vandalism and worse. On Dec. 20, two pipe bombs damaged an Islamic center in an upscale neighborhood of Cincinnati. The FBI said the powerful explosion could have been deadly had people been present.
"It's all part of the unfortunate temper of the times," says John Esposito, a professor at Georgetown University in Washington. "There is such a thing as Islamophobia."