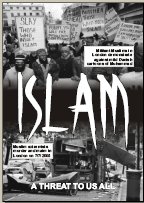 The BNP came second in a council by-election in Bedworth, Warwickshire, last week. This disturbing result demonstrates how the climate of racism and anti-Muslim hysteria is playing into the hands of the Nazis.
Labour held on to its seat in Bede ward on Thursday of last week, polling 658 votes, but the BNP's Alwyn Deacon, a pub landlord from Nuneaton, took 546 votes. The Tory vote fell to 301, less than two fifths of its previous vote in the ward.
In recent council elections voters in Bede have been faced with a choice of just Labour or Tory candidates. The by-election saw a wider field of candidates, with the Liberal Democrats standing and winning 119 votes.
The efforts of anti-fascists to hold back the BNP were not helped by a leaflet put out locally by the Searchlight organisation. These echoed Tory leader David Cameron's recent remarks, equating the BNP to "Islamic extremism".