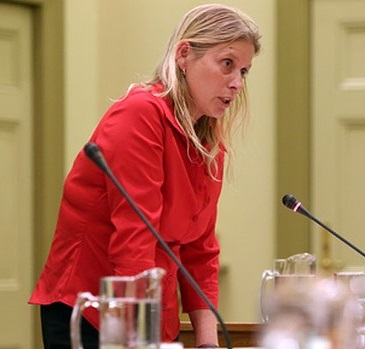 Bendigo leaders say they will not tolerate bigotry, especially from fellow community representatives, as councillor Elise Chapman remained steadfast in her comments about not "being a fan" of Islam.
Ms Chapman, who was one of two councillors to vote against a successful application for a mosque in Bendigo, reiterated she was not a racist and said people should not be made to feel so if they shared their opinions.
"My comments about not being a fan of Islam stand, although it must be noted I'm not a fan of many things," she said. "The people of Bendigo have every right to object to the application for a mosque without being labeled a racist or bigot.
"My comment that I wouldn't want to live next door to a mosque, also stands. Although it must be noted that I'd not like to live next door to a cemetery, nightclub, hotel, landfill, abattoir, train station…the list goes on. I think it's sad that many residents are afraid to publicly voice their concerns for fear of being labelled racists and bigots."
She went on to say that the phone calls and emails of support she had received had been overwhelming and thanked everyone for recognising that her job wasn't an easy one.
However Member for Bendigo East Jacinta Allan, Member for Bendigo West Maree Edwards and Federal Bendigo MP Lisa Chesters agreed that while freedom of speech was a democratic right, there was a responsibility that came with being a community leader.
Ms Chesters and said she expected better of her fellow community representative. "It's not okay to be a bigot and people have the right to live free," she said. She questioned how Cr Chapman could attend Australian citizenship ceremonies in Bendigo and say that "one religion was not welcome".
"This baffles me and it comes down to education and sending the right message to our community," she said.
"During City of Greater Bendigo ceremonies, our mayor reads the following to the audience: 'Australia has a commitment to various values and institutions. These include parliamentary democracy, equality before the law, freedom of the individual, freedom of speech and religion, equality between men and women, and equality of opportunity for all. Citizenship also brings civil and social rights — the right to express your cultural heritage and beliefs, coupled with a responsibility to accept the rights of others to express their heritage and beliefs'.
"It is so disappointing that this week, one of our local councillors forgot or chose to ignore these words and the citizenship affirmation we all take at the end of these ceremonies. As one of our community's elected representatives, I am proud to stand up for these values. They define who we are as a nation and as a community."
Ms Chesters said she had been heartened by the response of the majority of Bendigo residents, who had spoken out against the anti-Islam campaign that hit Bendigo in recent days.
Ms Allan agreed, but said she had been distressed by the handling of the situation by some. "We need to make sure we both listen to our community's concerns and aspirations but take the responsibility for leading the community," she said. "The reality is though that most people in Bendigo are respectful and tolerant of all people."
Ms Edwards backed the comments, saying the media had fuelled the flames of a select minority of protesters.