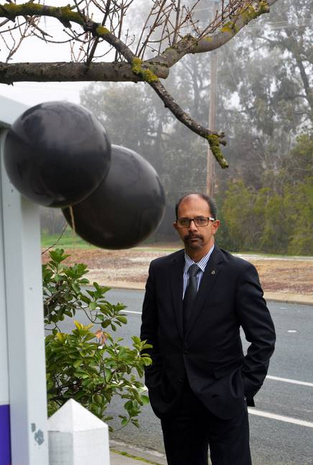 A Bendigo councillor has had black balloons hung outside his house as part of a campaign against plans to build the city's first mosque.
Councillor Mark Weragoda said his Sri Lankan heritage has been targeted in reaction to the council's approval of the mosque at a rowdy meeting on Wednesday night. "Outside the actual chamber there was a little bit of abuse," Cr Weragoda said. "I know one person yelled out to me, saying, 'we don't want you here'."
The campaign against the mosque has included the hanging of black balloons throughout the city over the past couple of weeks. It is expected objectors will take their fight against the plans to Victoria's planning tribunal, VCAT.
Cr Weagoda said the backlash against plans for the city's first mosque has been a challenging experience. "We've got one of the best, best cities in the world and you come back and there's a minority group who are a little disrespectful, that's the disappointing thing," he said.
See also "'Symbol of hatred' leaves councillor shaken", Bendigo Advertiser, 19 June 2014