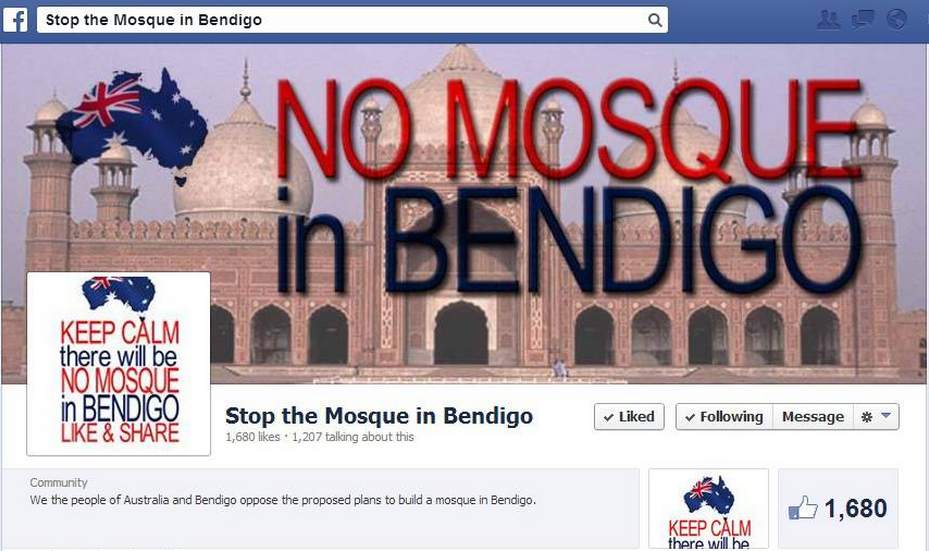 A new Facebook page aims to stop the construction of a mosque in Bendigo. The Stop the Mosque in Bendigo page has attracted more than 1700 likes since being created on Saturday.
The administrators of the group did not respond to a request for comment on Tuesday and made a post saying they did not want to deal with the inevitable backlash. The page said the media was "aligned with the left and will not give a true and correct report", and the "about" section said it was not a forum for debate.
"It is for those who don't not want a mosque in Bendigo for their own reasons," it said. "We live in a democracy and we are exercising our right to say 'no' to what happens in our country. Please like, share and ask the City of Greater Bendigo to show some leadership on behalf of our great country."
Melbourne is listed as the most popular city for users with the page most popular with people aged 25 to 34 years-old. A post says the administrators had to remove pages with inappropriate language and calls for users to refrain from using hate speech.
"And before anyone for the mosque steps in (and) says we were bullying, we are not," another post says. "We are entitled to our views and request that the City of Greater Bendigo stops the mosque based on historical evidence that not one community in the world has benefited in a positive way from a mosque and Muslims setting up camp in a community."
But Bendigo mayor Barry Lyons said councillors would consider the application on planning grounds.
"They must be reminded that to put some kind of objection in, it must have some basis, some grounds for it," he said. "You can't object to something because you don't like something. That's not grounds for an objection. As far as council's concerned, we'll be considering it on planning criteria. If it passes on planning criteria it will more than likely be supported."
Cr Lyons said anyone with an objection should lodge it with the City of Greater Bendigo when the proposal was released for comment.
Councillors have unanimously said they are not opposed to the mosque on religious or cultural grounds.