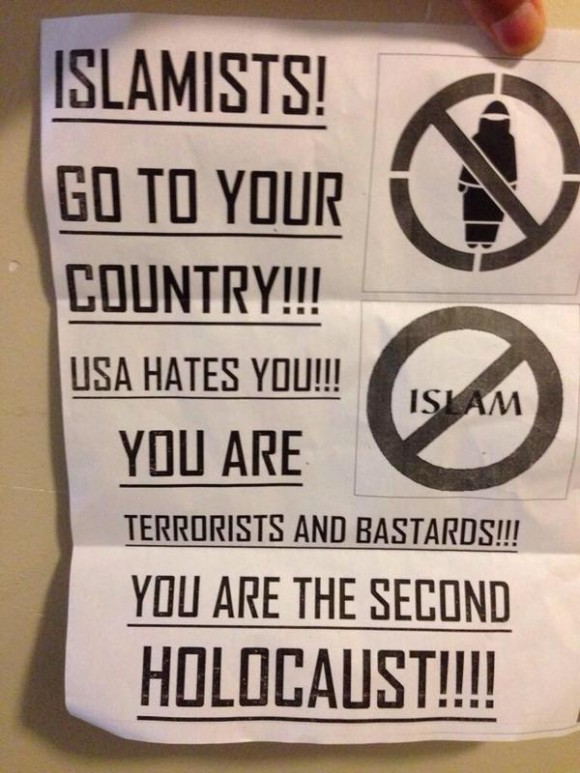 The NYPD's Hate Crimes unit is looking to identify the person who distributed anti-Muslim fliers in at least one of the Shore Haven apartment buildings near Cropsey Avenue and 21st Avenue in Bath Beach, according to Councilman Mark Treyger's office.
The fliers were found throughout the building this week, showing a hateful message calling Muslims "the second holocaust" and claims "USA hates you". There is what appears to be a woman in a burka inside a "No" symbol, and there is also an abundance of exclamation points.
"I am disgusted and saddened to hear of this hateful act in our community. There is absolutely no place for this type of hatred, especially in a city and borough as diverse and tolerant as ours. My thanks to the 62nd Precinct for their quick response and thorough investigation of this heinous act," said Treyger in a statement.
"I will continue to work closely with the NYPD and entire community so those responsible for spreading hate will held accountable and I urge anyone with information to come forward. It is my belief that an act of hate against one group is an act of hate against our entire community. The bottom line is there is no room in this day and age for these attacks against any member of our community."
Anyone with information is asked to call Crime Stoppers at (800) 577-TIPS (8477). The public can also submit their tips by logging onto the Crime Stoppers website, or by texting their tips to 274637 (CRIMES) then enter TIP577.
The above photo was shared by Twitter user @TakeOnHate.
Bensonhurst Bean, 29 July 2014
See also "Treyger Denounces Anti-Muslim Flyers Found in Bensonhurst Building", New York Observer, 29 July 2014
Update:  See "NYPD steps up probe of Bensonhurst anti-Muslim fliers", Brooklyn Eagle, 31 July 2014