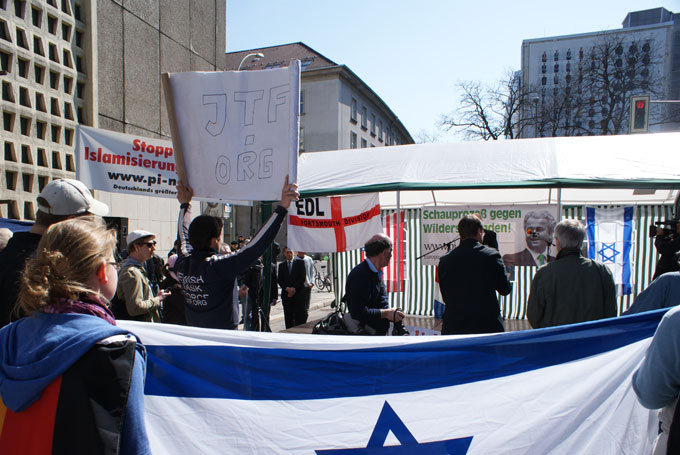 Over the weekend a "Solidarity with Geert Wilders" demonstration was held in Berlin. Organised by Pax Europa and Politically Incorrect, the demo was reportedly inspired by the London march in support of Wilders by the English Defence League, whose representatives attended the Berlin demo.
The event has received little coverage from its far-right supporters, no doubt because according to one report it attracted fewer than 80 people. However, photographs of the demo (carefully framed to disguise the fact that there was hardly anyone there) have now been posted, providing a helpful illustration of the sort of international links the EDL are building.
Postscript:  And while we're on the subject of the EDL, we note that they now have a website, "English Defence League … Extra", which claims to offer a more theoretical take on the organisation's anti-Muslim bigotry. The latest post is a rant against the Aylesbury Carnival Against Racism that will be held in opposition to the EDL's planned provocation in that town on May Day. The author is evidently incapable of distinguishing between Steve Bell, secretary of the Bucks health branch of UNISON who took the initiative in organising the alliance responsible for calling the anti-EDL carnival, and Steve Bell of the Communication Workers Union who is treasurer of the Stop the War Coalition. But then, UNISON or the CWU – what's the difference? They're all communist organisations after all.