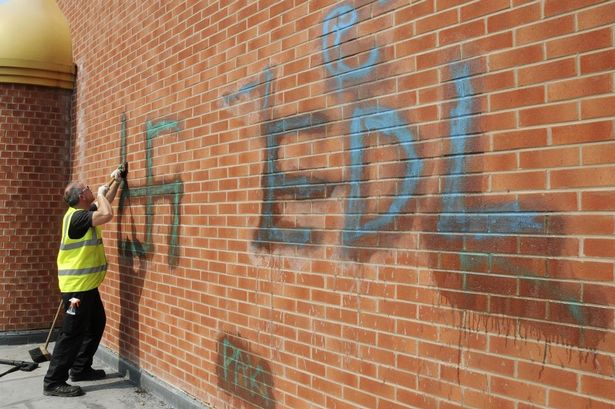 West Midlands Police has been urged to log Islamophobic hate crimes as a separate category following a series of attacks on mosques. The call comes as the anti-Muslim campaign group the English Defence League is gearing up for a demonstration in Birmingham City Centre on Saturday, July 20.
In the last fortnight a bomb was discovered at the Aisha Mosque in Walsall, while racist graffiti was scrawled on mosques in Redditch and Cradley Heath. The attacks and others across the country followed the brutal murder of serviceman Lee Rigby in Woolwich in May.
This week Birmingham City Council's social cohesion watchdog committee heard that hate crime in general, and Islamophobia in particular, are vastly under reported, with victims allegedly lacking confidence in the police to come forward.
A study by former West Midlands Police officer Mick Gillick has estimated that about 50 to 60 per cent of hate crimes go unreported.
He said police need to be more accurate in the reporting of hate crime. "It is not just devastating for the victim and their families, but is devastating and divisive for communities in a way that burglary and car crime are not. It is important we get this right, particularly in Birmingham, in 2013."
He said a key block was that figures for hate crime, of any sort, are not readily available on the Police or Community Safety Partnership websites.
Azad Ali, of lobby group Engage, called for police and authorities to respond in stronger terms to attacks like that in Walsall. He said: "Police use the term hate crime. An attack on a Synagogue would be described as 'anti-semitic' so an attack on a Mosque should be Islamophobia."
The committee heard that West Midlands Police commissioner Bob Jones is supportive of recording hate crimes by type.
Supt Chris Johnson told the committee that work is going on to 'build trust and confidence' with communities and encourage victims to report hate crimes. "If we see the figure go up in the short term, we would consider that a success," he said.
The committee heard that police are consulting with community leaders and city centre businesses ahead of the EDL demonstration. Between 750 and 1,500 extremists are expected to protest between 2pm and 4pm on July 20, with counter-protests from the Unite Against Fascism group.