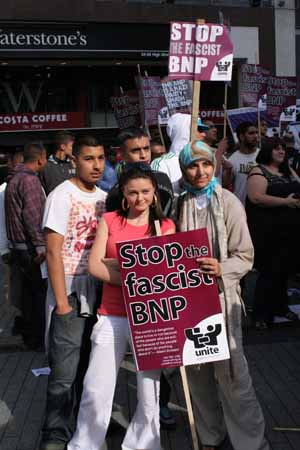 Police attempting to keep rival demonstrators apart in Birmingham city centre during early Saturday evening made a total of 33 arrests following sporadic clashes involving rival gangs of far right and anti-fascist protestors. Earlier events, organised by the right-wing English Defence League (EDL) and the anti-racist group Unite Against Fascism (UAF), passed off without the large-scale incidents that some had feared. Police reported two injuries during the evening, neither of which are believed to be serious.
The UAF protest in front of the Bull Ring at Rotunda Square was called in response to the EDL's proposed demonstration at the same spot, the far right group having staged a previous protest there in early July. A crowd of around 300 heard speeches by, amongst others, Respect Councillor Salma Yaqoob and Dave Hughes of the Birmingham Trades Council. The event appeared predominantly good natured, although there were minor scuffles as a handful of right-wing sympathisers in lower New Street appeared to taunt sections of the crowd.
As the UAF event was winding down, the English Defence League were holding their re-scheduled demonstration in Victoria Square where around 80 protestors were outnumbered by a multi-racial crowd of onlookers. A heavy police presence was in place at both events and this prevented serious disorder as a group of predominantly Asian youths broke away from the anti-racist demonstration in an attempt to confront the EDL meeting. Police (including some officers in riot gear) later cordoned off sections of New Street and High Street, and there were further clashes as members of both groups attempted to attack each other.
See also UAF statement on last Saturday's Birmingham protest against the 'English Defence League', 8 October 2009.