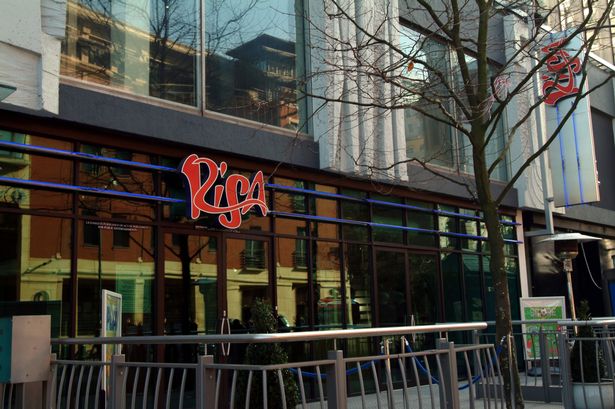 A Birmingham bar has been forced by police to house EDL members before a city centre rally this weekend – for the second time in two years.
Bar Risa has now reluctantly agreed to the request, despite violent scenes elsewhere in the city during last summer's protest after hundreds of the supporters had been housed inside the Broad Street venue.
A spokesman told the Mail: "We have been asked by the police to host the EDL during their protest as they wanted to contain them in one bar in order to help keep the streets of Birmingham safe.
"We very firmly said no and asked them to find an alternative venue. We did this because we do not, have not and will never support the EDL in any way, shape or form. In addition, we know how much it upset some of the local community last year, and having helped the police last time, it seemed right that they ask someone else.
"The police have since asked us several times and we have continually said no. The police stance however is that Risa is the only bar big enough and close enough to the centre of the protest to house the EDL as one group. Their view is that Risa would be doing the city of Birmingham, the community and the police a great service.
"Given the repeated police requests we had little option other than to help the police manage this situation. We have therefore decided to help, but will not be making any profits from hosting this group.
"As we did last year, we will donate all profits made during the time they are with us to the Midlands Air Ambulance Charity. Last year this sum was £1,500. Before making this decision, we discussed the situation with the local community leaders who are currently assisting West Midlands Police in their planning for the EDL protest, and we have their full support."
Rajinder Rattu, Community Outreach Worker, Desmond Jaddoo, Community Activist and Habib Rehman from the Saltley Business Association, jointly released a statement in support of Bar Risa. It said: "We absolutely understand that Bar Risa does not support what the EDL stands for. They have very reluctantly made the difficult decision to assist West Midlands Police with this complex policing operation.
"By doing this we also recognise they are supporting the wider city of Birmingham and allowing this great city to continue functioning with minimal disruption. Bar Risa are also donating any profit from this event to the Air Ambulance charity which is a really positive outcome to this challenging situation."
Hundreds of English Defence League followers were housed inside Bar Risa before the rally in Centenary Square last July 20.
More than 1,300 officers were called in from 12 forces across the country to marshall the right-wing group's protest and a counter demonstration by Unite Against Facism in Chamberlain Square.
Twenty people were arrested on public order offences during the day, although there were no public order problems in Bar Risa.
West Midlands Police Superintendent Richard Baker said: "Due to the complexity of managing a protest of this size and scale we approached Bar Risa again and asked them to host the EDL.
"From a policing and public safety aspect it is always better to provide a meeting point for a large protest group and escort them to the protest location as this causes minimal disruption to the wider city.
"Bar Risa repeatedly said no to our request, and quite reasonably asked us to find an alternative venue given they hosted the EDL last year. However, Bar Risa is the best venue for this policing operation due to its size and proximity to the march. After a series of discussions, they have reluctantly agreed to open for a period of a few hours during Saturday 11th October to assist the policing operation.
"This was a difficult decision for them and we appreciate the support they are giving to this complex policing operation."
Sofia Voutianitis, of the Midlands Air Ambulance charity, said: "We were delighted to receive the donation from Bar Risa last year and are very grateful they have chosen us again this year. We receive no Government or lottery funding and each mission costs on average £2,500, so Bar Risa's contribution will go a long way to helping to save lives across the region."
Birmingham Mail, 8 October 2014
---
As we pointed out before last year's EDL rally in Birmingham: "Not content with allowing the EDL to hold an intimidatory and potentially violent demonstration in central Birmingham, when they have the power (under Section 14 of the Public Order Act) to prevent this, West Midlands Police have provided the EDL with a bar where they can spend up to three hours getting drunk before the demonstration." With entirely predictable results. And instead of learning from this debacle, West Midlands Police are apparently intent on repeating it.