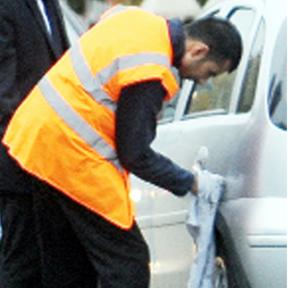 Racists vandals sprayed vehicles, homes, and businesses in a mile-long spree across part of Blackburn at the weekend.
Walls, lamposts, cars, and vans were daubed with red paint in the attacks, which are believed to have happened between midnight on Friday and 4.30am on Saturday.
Some of the vehicles were sprayed with red lines, but other graffiti read 'EDL', while walls and lamposts were marked with racist language and profanity.
Most of the graffiti was concentrated in the Shear Brow area, where a number of Asian-owned businesses were also hit. But police have not been able to confirm whether the graffiti attacks were random or targeted.
Coun Hanif Khonat said: "We are really disappointed and the community is very upset. "We are working with the police and asking people to stay calm. "If anybody can give even the slightest bit of information then we urge them to contact police.
"This is an ongoing matter but the police are making enquires." The damage stretched from Park Avenue, down Shear Bank Road, along Preston New Road, and down to Montague Street and Johnston Street.
On Saturday morning, two police vans were in Shear Brow as officers carried out door-to-door enquiries. Shakeel Chaudhury, 41, works at H&S Furniture on Montague Street, where 'EDL' was daubed on the back of one of the signs.
He said he believed the business could have been specifically targeted because it was owned by people from the Asian community. He said: "There's no room for that in modern society. Everyone strives to work hard and live peacefully and then this happens."
Hanif Master, 39, a retail worker, had to pay for graffiti to be removed from his car. He said: "It's terrible. It's never happened on our street. We've never had EDL people come round on our street."
Residents on Park Avenue paid £50 to hire an industrial pressure washer to clean their cars, and said the vehicles would require further treatment with specialist chemicals.
Saj Mahmood, 31, an accounts manager for an oil company, said: "The police need to be patrolling here more. Last weekend cars were keyed. "I think they damaged around 20 cars in total on this street. We keep reporting it but nothing is getting done."
A police spokeswoman said: "Police received several reports of vandalism in and around the Blackburn area. Around 14 cars and one wall were vandalised on Park Avenue having been sprayed with graffiti, some of which was of a racist nature and officers have launched an investigation to trace those responsible.
"Other damage caused nearby includes a sign on a lampost, a lampost itself and a wall on East Park Road and Montague Street. "We have a team of officers in place doing house-to-house and CCTV enquiries in a bid to trace those responsible.
"If anyone saw any suspicious activity in the area or has any information that they think could assist the investigation, then I would urge them to contact police by calling 101."
Shear Brow councillor Shahabuddin Solkar said: "I have never experienced anything like this before. These kinds of things shouldn't be happening in Shear Brow, or anywhere else.
"We don't want things like this in our area. We get a lot of people coming from other towns to visit Whalley Range and Shear Brow and we don't want them to think it's a rough area or a run-down area, but graffiti like this can make it look that way."
The English Defence League was approached for comment, but did not respond.