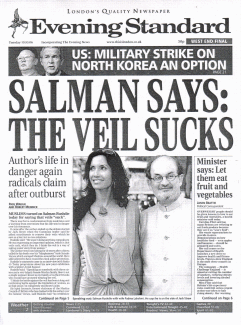 Prime Minister Tony Blair was accused Tuesday of rekindling the 18-year old controversy over Salman Rushdie by his government's decision to give the notorious author a knighthood.
"Many will interpret the knighthood as a final contemptuous parting gift from Tony Blair to the Muslim world," said secretary general of the Muslim Council of Britain, Abdul Bari.
Bari said that the Indian-born author earned "notoriety among Muslims for the highly insulting and blasphemous manner in which he portrayed early Islamic figures much-loved and honoured by them." "The insensitive decision to grant Rushdie a knighthood can therefore only do harm to the image of our country in the eyes of hundreds of millions of Muslims across the world," he warned.
Labour peer Lord Ahmed described Blair's decision to approve the honor just before his steps down from power next week as double standards. "It's hypocrisy by Tony Blair who two weeks ago was talking about building bridges to mainstream Muslims, and then he's honouring a man who has insulted the British public and been divisive in community relations," Ahmed said.
Bradford Council for Mosques in northern England also criticized the knighthood as an insult to Muslim religious sensibilities and as an endorsement of the author's views. "The British government has acted extremely irresponsibly in knighting Rushdie at a time when it should be seeking to restore and strengthen the confidence of its Muslim subjects that it has their best interests at heart," said council spokesman Ishtiaq Ahmed.
See also Inayat Bunglawala at Comment is Free, 19 June 2007