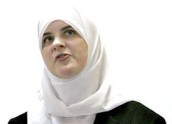 Chantal Carnes didn't recognize herself. A friend had e-mailed her a blogger's article. It described Carnes as a supporter of terrorists, a fan of suicide bombing. Her friend thought the article was a joke. "No, dude," Carnes said. "This is really serious."
Carnes, a Chicago resident who converted to Islam 11 years ago, was scheduled to speak at a spiritual retreat for Tampa Muslims this weekend. But after bloggers alleged that the event was a thinly veiled terrorist indoctrination, anonymous callers bombarded the Muslim American Society of Tampa with death threats and curses. The director of the Lithia church camp that was to host the event decided to close the camp for the weekend after she, too, received threats.
On Dec. 27, blogger Joe Kaufman began writing about an event he called "a jihad retreat for children." Over the course of the week, he wrote that Carnes was "well known in the radical Islamist American community." He wrote that the retreat's other speaker, Mazen Mokhtar of New Jersey, was linked to al-Qaida. Other bloggers quickly picked up the theme. "You gotta start your kids on the road to martyrdom early, or there'll be no one left to murder," a blogger known as "Ace of Trump" wrote about the retreat.
St Petersburg Times, 1 January 2006
For Kaufman's attack, see Front Page Magazine, 28 December 2005