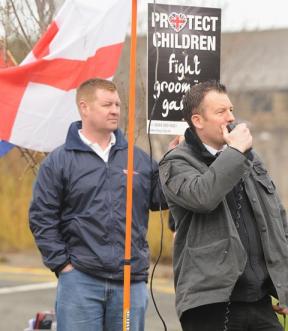 British National Party and English Defence League supporters held a protest outside Burnley crown court on Friday. More than 25 protesters gathered as Judge Beverley Lunt prepared to set a date for a child sex offence case.
Holding Union and St George's flags and banners reading "protect children, fight grooming gangs", protesters were monitored by around 20 police officers in and around the Hammerton Street court. Members of the BNP played music and speeches for more than two hours in front of TV news cameras and newspaper photographers.
Lancashire Telegraph, 5 March 2012
BNP leader Nick Griffin recently announced that the party had lifted its ban on co-operation with the EDL, while prominent EDL member Hel Gower has joined a Facebook group advocating unity with the BNP, so it will be interesting to see how this pans out.