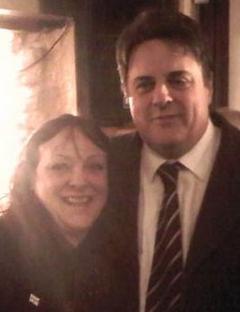 A British National Party election candidate has provoked fury after making vile racist slurs on her Facebook page.
Nancy Shaw-Farmer, who is bidding to become a councillor in Roe Lee in Blackburn, has been described as "an absolute disgrace … living in the dark ages" whose remarks "were bad, even by BNP standards".
The 45-year-old former Clitheroe Grammar School pupil defended her comments, insisting people who found them offensive "didn't have a sense of humour" and refused to apologise.
Posts by Ms Shaw-Farmer, who works as an Avon Sales leader and lives in Bastwell, on the social networking site included:
• 4 P***s in a car near where I work asked for directions to a junior school. Sent them in the wrong direction.
• the current government don't want cannabis legalised as it would put too many P***s out of work. ha ha ha.
• Bungee jumping! £25 per person. Muslims and P***s free. No strings attached and free transport. ha ha ha.
• When Pakistan had its floods I said if I was out of England for whatever reason, I'd get back there pronto to help my country, no f****** P***s went back to help did they!
Ms Shaw-Farmer is pictured on Facebook with BNP leader and North West MEP Nick Griffin, who she describes as her "hero".
She said Islam was "evil" but insisted: "I am not an extremist, anyone who knows me would say I have a lot of Muslim friends."
Lancashire Telegraph, 4 May 2011
Update:  See "Blackburn BNP candidate loses Avon role", Blackburn Citizen, 10 May 2014