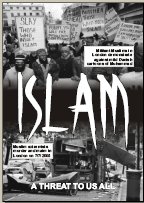 A Pendle councillor from the British National Party has been cleared of all charges after he was arrested for handing out leaflets believed to racially aggravate public order.
Coun. Brian Parker was arrested with three other men on November 19th, for handing out two leaflets. One was written by the BNP entitled "Islam – a threat to us all" and the other by Preston Pals, holding Muslims responsible for the heroin trade in Britain.
After his arrest, bail was postponed four times before it was found on July 6th there was "currently insufficient evidence to prove a realistic prospect of conviction."
He maintained the leaflet, entitled "Islam – a threat to us all", was a standard BNP leaflet and does not contain unlawful material. The other leaflet, "The heroin trade, a crime against humanity", was not intended to stir up racial hatred, but inform the Muslim community of the heroin problem and encourage members to sort it out.
The arrest does not appear to have deterred Coun. Parker from handing out leaflets in the future. He said: "We will still put leaflets out and if the police get upset by the uncomfortable truth, then that is their problem and not ours. We are not doing anything wrong."