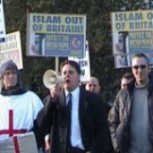 British National Party leader Nick Griffin visited North Staffordshire yesterday to pay his respects to the partner of activist Keith Brown. His visit marked one year since Mr Brown was killed by a neighbour.
And after commiserating with Julia Barker, he spent time with local party officials planning a national BNP rally scheduled for Stoke-on-Trent next month. Mr Griffin also thanked them for turning the city into "the jewel in the crown of the BNP".
Mr Barker, of Uttoxeter Road, in Normacot, was stabbed to death on July 6 last year, by his Muslim neighbour Habib Khan, following a long-running dispute. Khan was convicted of manslaughter by reason of lack of intent and is still awaiting sentence.
Mr Griffin said: "Despite the manslaughter verdict we still regard Keith's death as murder and we need to highlight how the police and criminal justice system fails to properly investigate such racially-motivated crime. We are expecting large numbers of people from around the country to converge on the city for the rally on August 9 when we shall be touring the estates and visiting large parts of Stoke-on-Trent."
---
It is quite clear that racism – and anti-Muslim racism in particular – is absolutely central to the BNP's political appeal across the country. Consequently, anti-racism has to be equally central to the anti-fascist movement.
Yet there are still those who try to avoid recognising this self-evident fact. A discussion article by Nick Lowles in the June 2008 issue of the anti-fascist magazine Searchlight, for example, argues that: "A cursory look at where the BNP is gaining support shows that race is not necessarily the dominant issue that it was in Oldham, Burnley and Bradford. There are very small non-white communities in Stoke-on-Trent, Barnsley and Nuneaton and Bedworth."
How does this in any way demonstrate that racism is not still the defining factor in the rise of the BNP in those towns? It's well known that le Pen's Front National won support in areas where a high proportion of the inhabitants were of North African origin – Marseilles notably – but also in areas where the white "indigenous" French population was in a large majority. In both areas the FN campaigned on the basis of racism, winning votes by inciting hatred and fear of migrants.
Similarly in the UK, just because there is a small proportion of non-white people in a particular area it doesn't mean that racism ceases to be central to the BNP's appeal there. Indeed, in such areas racism can sometimes become a more effective mobilising ideology for the far right than it is in multi-ethnic towns and cities, because the white majority, having little direct experience of social interaction with members of minority non-white communities, are more susceptible to racist stereotypes and can be convinced that their culture and identity are under threat from an influx of "aliens". Five years ago the BNP managed to get a councillor elected in Broxbourne on the basis of a scaremongering campaign about the town "filling up" with asylum seekers, when in reality there wasn't a single asylum seeker living in Broxbourne.
Stoke-on-Trent may well contain "very small non-white communities" (at the time of the 2001 census, 95% of the population was white and only 5% non-white, while even the most ethnically mixed ward – Hanley – had a 76% white population). However, as is detailed in Peter Oborne and James Jones' excellent new pamphlet (pdf) Muslims Under Siege, this hasn't prevented the BNP from acquiring its base of political support and nine councillors …
"… in large part by fighting a vicious anti-Muslim campaign. Stoke has one of the lowest employment rates in the country since the pottery industry collapsed. The BNP have sought to link this decline to Muslim immigration. Their leaflets have shown a montage of pottery kilns, smiling white housewives and a church tower, with the caption, 'HANLEY 70 YEARS AGO'. A second montage alongside showed silhouettes of mosques and a photograph of women in veils (taken in Birmingham) – one giving a V-sign – with the caption, 'Is this what you want for our city centre?'
"Other campaigns have focused on planning issues over mosques – a flash point elsewhere too. The BNP accuse the Labour council of cutting special deals with Muslim groups in exchange for support. The BNP protested that the Labour majority council was renting a plot of land to Muslim developers for just £1 a year, amid suggestions that it could be sold to them for £72,000. The BNP even made an offer of £100,000 on the land. The mayor of Stoke, Mark Meredith, told us that these peppercorn rent deals are done with all community groups, and that in this case a plot of land that has been lying idle for decades will be put to good use and regenerate the area….
"The determination to scapegoat Muslims has meant they even champion animal rights, targeting halal food as inhumane in a campaign that BNP Councillor Michael Coleman admitted to us was not their natural territory.
"The BNP told us on our recent visit that they are about to launch a new nationwide anti-Muslim campaign from Stoke. The launch pad for this new era of hostility will be the sentencing of Habib Khan, who was charged with murdering his neighbour, Keith Brown, a BNP activist. Brown is to be promoted as the first 'BNP martyr'."
And this, according to Searchlight's leading theoretician, is a town where "race is not necessarily the dominant issue" in the rise of the BNP!
What explains this peculiar blind spot on the part of Nick Lowles? Some of us might point to Searchlight's traditional reluctance to mount an ideological and cultural challenge to racism within the white majority community. Plus, of course, the Zionist politics of Searchlight's leadership makes them resistant to campaigning against anti-Muslim bigotry in co-operation with the representative organisations of the community who are the victims of that bigotry.