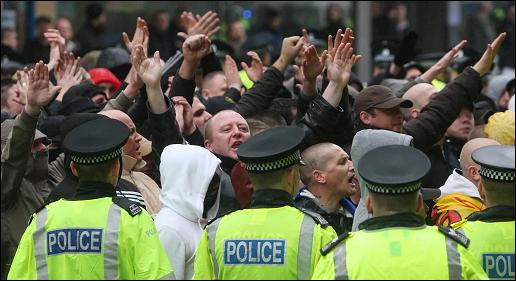 Links between the BNP and the right-wing Scottish Defence League can today be exposed by the Sunday Herald.
Both groups have publicly tried to distance themselves from each other, with the BNP claiming it would expel members found to be active in the Scottish Defence League (SDL) and its English counterpart, the EDL.
But one long-standing BNP member in Scotland told the Sunday Herald the party and the SDL shared many members and supporters, adding that the threat of expulsion was merely "a publicity thing" designed to placate the media. He said: "I am a member of the BNP and a supporter of the Scottish Defence League. A lot of the supporters are the same."
On the threat of expulsion, he added: "That is a publicity thing. We both have the same views on radical Islam and we both don't want Sharia law in Britain. We created our group [the SDL] to support what was happening down south with the English Defence League. I couldn't say that the SDL was set up by BNP activists, but I was one of the early ones to support it."
The claim that the expulsion threat was a publicity stunt was dismissed as "preposterous" by the party's national press spokesman, who questioned the authenticity of the member who made the allegation.
However, information gathered by David Miller, a professor of sociology at the University of Strathclyde and a co-founder of the campaigning website Spinwatch, alleges that at least three BNP members are also Defence League supporters.
One is BNP Scotland member John Wilkinson. He leafleted on behalf of the party in the run-up to the European Elections, and is involved with running the SDL website. SDL supporter Iain Brooks, from Glasgow, is also listed on a leaked BNP membership list. And Adam Lloyd, the BNP organiser for Bridgend in Wales, is another listed as an SDL supporter, according to Prof Miller.