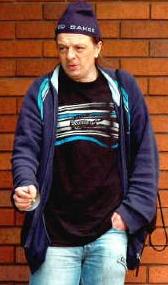 An internet trader who put racist stickers on packages has been fined after they were spotted by Muslim postal workers. The stickers, which had the statement "no more mosques" and a cartoon figure of a Muslim with a bomb exploding from his head, were found at the Royal Mail Centre, on Green Lane, Stockport.
Lockhart Kneen, of Braemore Drive, Hyde, was fined £150 and ordered to pay £115 costs for racially/religiously aggravated harassment. Kneen, 39, who sells political magazines for the BNP, claimed he put the stickers on the packages in protest against a "Tameside Super Mosque".
The court was told Kneen became extremely aggressive when arrested and shouted racist abuse. He claimed was advised by a BNP leader that the stickers were not racist, but were illegal if put on public property.
"These parcels are my property and I live in a free country, so I decided to stick them on my property," he said. "They're going to move the war graves in Ashton and build a super mosque. There are people in Tameside bricking windows of mosques. I was protesting peacefully and I'm the one in court. I would have been better off throwing bricks."
Mr Lake, defending, said: "It was an expression of freedom of speech. Freedom to express your views should not only include the inoffensive, but also the contentious, providing it does not provoke violence. And a freedom of speech that does not include the contentious is not worth having."
Sentencing, District Judge Tim Devas, said: "I believe the defendant was aware of the distress his comments could have caused."