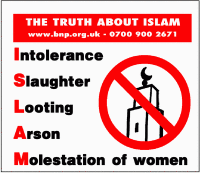 "46-year old Nick Griffin is the head of the British National Party, which is sometimes described as 'far-right' and demonized in the media.
"Two years ago, he was talking about what he thought about Islam and asylum-seekers. Unbeknownst to Mr Griffin, he was being secretly filmed by the BBC. The comments were then screened on 'The Secret Agent', a documentary which was more of a PC smear campaign than an objective assessment of the current BNP party policy….
"The BNP had a previous history of racism from when it first began, but Nick Griffin has moved the party forward like no other figurehead before, and overt 'racism' has not featured in any of its documents or policies since he became leader. The party is against immigration, against the culture of giving tax-payers' money to so-called 'asylum-seekers', and most importantly, it is against the spread of Islam."
Western Resistance, 2 November 2006
Worth noting that the proprietor of this site is also a great admirer of Peter Tatchell.