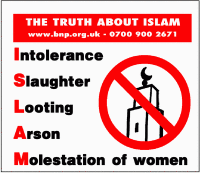 Last week the BNP stood a candidate, one Bill Pugh, in a by-election for Copeland Borough Council, an area not known for its large Muslim population. But the fascists still managed to play the anti-Muslim racist card – and with some effect. Although Pugh came third of three candidates, he got 23.44% of the vote. The local paper reports on the BNP's campaign:
"If you looked past the Union Jacks and BNP slogans, Mr Pugh's election leaflet read for the most part like an electorate's dream. He advocated a return to weekly bin rounds, moving away from fortnightly collections; an end to the council's Executive 'squandering tax-payers' money' on what he regards as extravagances…. He was also keen to protect our hospital services and look after elderly residents, as well as providing more affordable social housing.
"But there, in the middle of it all, was another pledge, to stand against plans for a large-scale mosque in Whitehaven. The only trouble with their pledge is that there isn't a mosque planned for Whitehaven, on any scale, large or otherwise.
"The BNP delivered a petition to The Whitehaven News before the election, in which they claimed that 1,000 people were against the plans for a mosque. A number of names appear twice or three times and dozens of the signatures were from people from outside the area. Osama Bin Laden was among the signatures."
Whitehaven News, 27 September 2007
(Via Lancaster UAF)