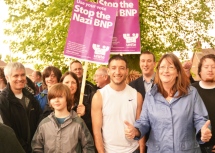 A demonstration by the British National Party against speculative pre-application plans for a new mosque in Hemel Hempstead was countered by two other groups today.
The Unite Against Fascism group and a members of the local Muslim community staged oppositions to the protest in Barnacres Road, where it was suggested the former Nash Mills Methodist Church site could house a mosque in unofficial proposals leaked by Dacorum Borough Council last August.
The BNP presence was led by the party's organiser for the eastern region Chris Livingstone, who is standing as a BNP candidate in the European elections on May 22.
A strong police presence was maintained throughout the demonstration, with each faction separated by barriers manned by officers, opposite and around The Denes shopping centre.
A large number of supporters turned out for the UAF's counter demonstration. Participant Ed Colenutt said: "Parties like the BNP exist to create divisions in our society, plain and simple. We have got to stand here and show them that they're wrong and we won't accept divisions in our society.
"If we are going to start protesting against things that aren't going to happen, I could find things that aren't going to happen every time I walk down the street.
"A lot of people have said this is a ludicrous protest and I completely agree. Wherever the far right show up you need to show they are not welcome and they will not divide communities, and that is why we have to come out today. We would rather not be here, but we have to."
Members of the Muslim community also arrived to counter the BNP's protest. One member of the group, who wished to be known as 'M', said: "We all live locally and we are concerned about how our area is going. In the last year we have had two far right groups come here. We want to show they are not welcome here."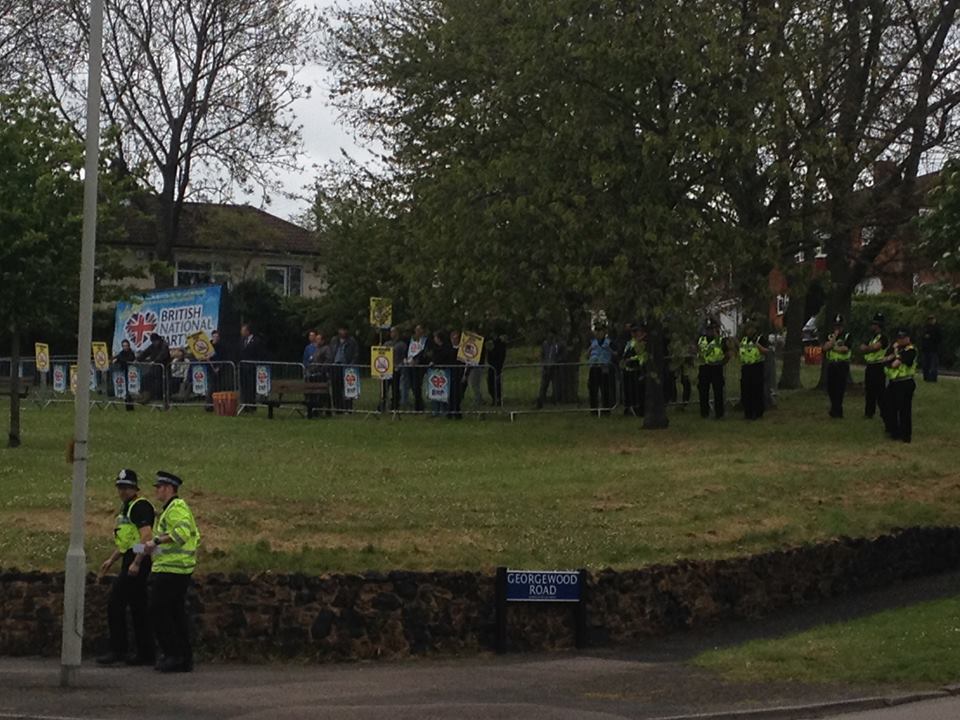 The massed ranks of the British National Party's "unity demonstration"
Update:  See Matthew Collins, "Nazis in the BNP woodwork", Hope Not Hate, 12 May 2014