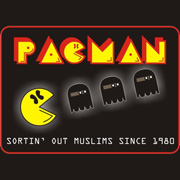 A British National Party official has been accused of racism over an anti-Muslim message posted on the internet.
Mark Collett, the BNP's publicity director, created a spoof of the Pac-Man computer game with the caption "Sortin' out Muslims since 1980" and has uploaded it to a number of websites.
The image, which shows caricatures of Muslim women in veils being attacked by the computer character, is accompanied by a personal message from Collett on his Facebook page. He wrote: "Pac-Man knows how to deal with Muslims! I made this, I hope it makes you all smile! Feel free to send it out and spread the joy."
Collett was cleared in 2006 of inciting racial hatred after a jury heard he had told a meeting in Keithley: "Let's show these ethnics the door in 2004."
But Muslim MP Shahid Malik, a minister in the Department for Communities and Local Government, has accused Collett of being "twisted" and said the game proves the BNP is racist.
He told Sky News: "If this is the work of Mark Collett, it only serves as further demonstration of what a sick, twisted and vile individual he is. It is useful to highlight this type of attitude in the leadership of the BNP. It helps expose the true face of this racist and fascist organisation."
Collett's comments about "how to deal with Muslims" are at odds with his party's public statements on immigration and leader Nick Griffin's claims the party is not racist.
The policy section of the BNP website claims the party is not opposed to non-whites, so long as whites stay the majority. It states: "We accept that Britain always will have ethnic minorities and have no problem with this as long as they remain minorities."
Yet Dr Rob Berkeley from the Runnymede Trust, which campaigns to promote a multi-ethnic Britain, describes Collett's game and comments as "clearly racist". He said: "It is more evidence, if it was needed, that the BNP is a racist party, or at minimum a party of racists."
Collett told Sky News his spoof Pac-Man picture was "simply a joke" and said he did not want to "sort out" Muslims. He said: "The Pac-Man character eats ghosts, but to suggest that anyone in the BNP wants anyone to eat women in burqas is laughable. It's not suggesting that anyone needs sorting out, it was simply a joke."