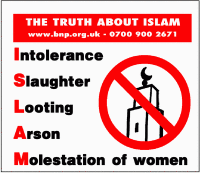 The British National Party has said that it will hold a rally in honour of its first claimed martyr, whose Asian killer was jailed for eight years for manslaughter yesterday.
Keith Brown, a father of eight and friend of the party leader, Nick Griffin, was stabbed to death by his neighbour Habib Khan, a Muslim community leader. A judge said that the dead white man and his skinhead son had both been involved in acts of racial aggression towards the Khan family.
The BNP said that it will hold a rally in Stoke-on-Trent on September 20 to protest about the case and Staffordshire Police's handling of the long-running neighbours' dispute.
Khan, 49, had been cleared of murder but was found guilty of manslaughter after a jury heard that he stabbed Mr Brown, 52, with a kitchen knife during a row on the pavement. Judge Simon Tonking said that although Khan was acting in defence of his own son, his action in stabbing Mr Brown went beyond that which was reasonable.
The far Right has portrayed Mr Brown as the "first nationalist victim of Islamic jihad against Great Britain". Stoke's BNP councillors shouldered the coffin at his funeral, which is posted on YouTube.
Michael Coleman, a BNP councillor in Stoke, where the far-right party is now placed second only to Labour in the popular vote, said: "We have a man here who has been murdered in the street. It is an outrageous betrayal of justice. Staffordshire Police . . . go softly with ethnic minorities [unlike] the indigenous population. We won't put up with being treated like this."
The Khans were given a panic button after Mr Brown's teenage son Ashley beat his middle-aged Asian neighbour unconscious. The police had attempted mediation between the two families but found Mr Brown "immovable". The Browns claimed that the police ignored incidents where the Khans poisoned their puppy and cut their brake leads, but no records of such complaints were discovered.