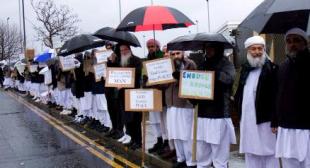 Senior members of the Muslim community in Bolton have condemned the arrest and subsequent release without charge of a 62-year-old community leader by counter-terrorism officers.
Four of the the five men arrested in dawn raids across the Greater Manchester area last week were charged with terror-related offences, police confirmed. But the arrest of 62-year-old community leader Asif Farooqui from Bolton was strongly criticised yesterday. Bolton Council of Mosques spokesman Muhammed Mangera said:
"The release confirms that there was in fact no evidence to support the allegation that he was involved in any activity related to terrorism. Indeed Shaykh Farooqui has always advocated peace, tolerance, harmony and respect for the law of this country. This ill advised arrest has had a huge impact on the communities' confidence in all the agencies advocating the arrest.
"Bolton's Muslims are deeply frustrated and disappointed in a system where innocent people, in this case a 62-year-old elderly, frail and faithful leader in the community, can be arrested and detained without even any provision of bail. There are without doubt issues of significant concern relating to the actual terrorism legislation."
Greater Manchester Police declined to comment on the criticism.
Morning Star, 24 November 2009
See also Bolton News and ENGAGE.