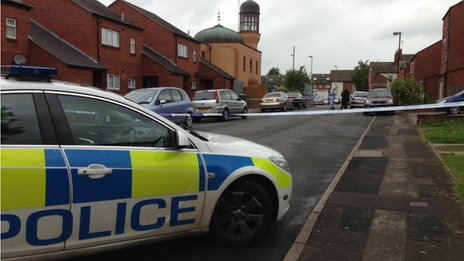 Bomb disposal experts have been called to a mosque after the discovery of a suspicious item by a member of the public.
A police spokesman confirmed the suspicious item was reported to officers at 10.45pm on Saturday after it was found by a member of the public. Army experts ordered the evacuation of nearly 40 homes near the Rutter Street mosque in Walsall, West Midlands Police said.
The spokesman said the item was discovered in the grounds of the mosque by the member of the public before being taken inside the building. The spokesman stressed that the evacuation of homes was a "precautionary and temporary" measure, and added:
"Officers were immediately dispatched and cordoned off an area around the building. Army bomb disposal experts are currently at the scene and have this morning ordered the evacuation of around 39 homes in the immediate vicinity of the mosque.
"People in the affected area and who are unable to make alternative arrangements are being taken to Walsall Town Hall, where they will be cared for. Officers are continuing to work hard to establish what the item is and how it got there."
Meanwhile, local officers remain at the scene and are talking to residents to keep them up-to-date with the incident and offer reassurance. Officials from Walsall Council are also working closely with the emergency services to support local people and minimise disruption in the area.
Update:  See "'Suspicious item' at Walsall's Aisha mosque a hate crime, say police", BBC News, 23 June 2013
Update 2:  See "Walsall mosque: Package was explosive device", Sky News, 23 June 2013
Update 3:  Also "Bang investigated as mosque device confirmed as home-made explosive", West Midlands Police news report, 23 June 2013