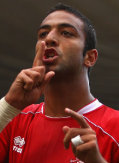 When The Muslim News probed Middlesbrough FC on its handling of the incident in which Mido, their Egyptian forward, was subjected to Islamophobic chants, the club merely said having a multinational team will be their "strongest anti-racism message".
Mido, whose real name is Ahmed Hossam Hussein Abdelhamid, was subjected to 90 minutes of "terrorist" and "Mido, he's got a bomb" chants by Newcastle fans in the 2-2 draw at the Riverside Stadium on August 26. Yet Middlesbrough have refused to disclose a report to the Football Association (FA) or exchange intelligence with Cleveland police. They have not inspected CCTV or TV footage around the stadium. They will not even browse online Youtube videos recording some of the taunts.
Preposterously glossing over the fact that Mido faced similar abuse from Southampton and West Ham fans two years ago playing for Tottenham Hotspurs, the 24-year-old-s new club have decided not to take any action, "We trust and believe that the incident involving some Newcastle United supporters was a one-off and sincerely hope that it will not be repeated again in the future by fans of any club."
Yet denial and complacency over Islamophobia in English football is not exclusive to clubs. Football's anti-racism body Kick It Out told The Muslim News it received numerous complaints about the manner in which sections of the media have addressed the matter. "In discussing the abuse received by Mido, one of the presenters (on a national sports radio station) has been classifying it as a bit of fun" read one complaint.
Some of the discussions have gone as far as to suggest the abuse was not Islamophobic. "Obviously, it was not claiming that all Muslims are terrorists. It's just a chant," said one fan.
Kick It Out said they are adamant the chanting was Islamophobic. Kick It Out spokesman said they were "disappointed by Cleveland Police for not taking any action", putting the onus on the clubs to find witnesses and make complaints.
On its part the FA, which wrote to the two clubs to ask for their observations, told The Muslim News it is "taking the matter very seriously" but said it would not be able to carry out an adequate investigation without the co-operation of the clubs.
The Commission for Racial Equality condemned the "completely unacceptable" incident, insisting, "There should be no place for racists and Islamophobes." Yet, like the FA, the soon to be defunct CRE washed its hands of the incident. A spokesperson for the Commission said it was not "in the position" to call for action from the FA or the police.