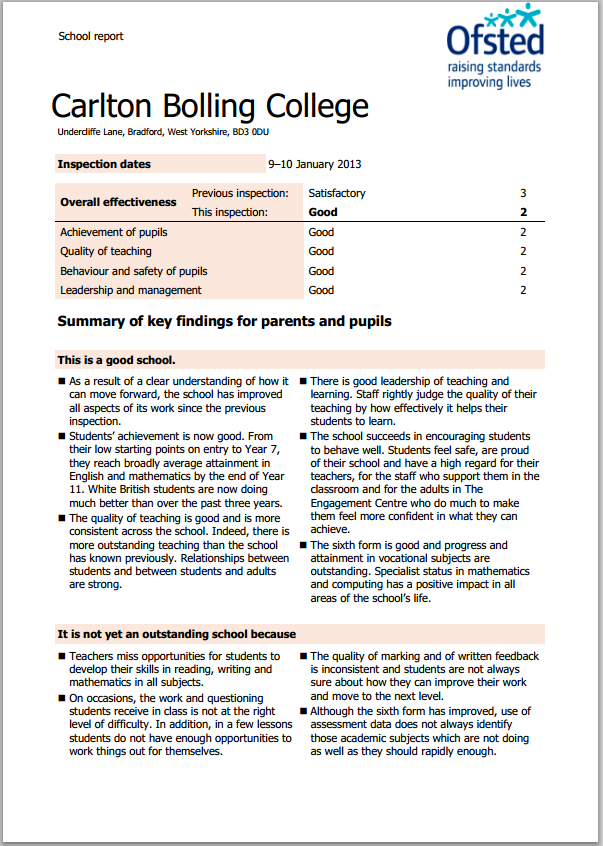 A Bradford school has been drawn into the row over claims that governing bodies are attempting to pursue an Islamic agenda at state schools.
It has been reported that minutes from governing body meetings at Carlton Bolling College showed that governors had regularly asked whether a broad religious agenda met the spiritual needs of students. It also reported gender segregation had taken place for trips at the Bradford secondary schools
However the school's chairman of governors in Bradford has said attempts to link his school and the city to the Birmingham "Trojan Horse" controversy "feels like a witch hunt". Faisal Khan was speaking following reports relating to two Bradford schools – Carlton Bolling College and Laisterdyke Business and Enterprise College – neither of which are Muslim faith schools.
Mr Khan, who is chairman of governors at Carlton Bolling and a former Respect councillor who now sits on Bradford Council as an independent, said suggestions the governing body was trying to impose a strict Islamic ethos on the school were wrong.
"It's just completely false," he said. "It feels like a witch hunt. We're a good school and we're proud of the students and the staff and I think all this is just mischief-making. People need to just stand back and take a level headed approach rather than just try and destroy all this."
The concerns about schools in Bradford follow a damning report from the watchdog Ofsted earlier this week on some schools in Birmingham as five in the city were placed into special measures in the wake of the "Trojan Horse" allegations.
Following Ofsted's verdict on the Birmingham schools, Education Secretary Michael Gove told MPs that the Government will take "decisive action", warning that all schools could now be subjected to unannounced inspections while schools that have failed will be taken over and put under new leadership.
The inspections were conducted following claims of a takeover plot by hardline Muslims and found that a "culture of fear and intimidation" has developed in some schools and, in several, governors exerted "inappropriate influence" over how they are being run.
However there are also widespread claims that the Trojan Horse letter which triggered the row is actually a hoax.
Ofsted inspectors visited Laisterdyke Business and Enterprise College, in Bradford yesterday but this was part of a long-standing engagement with the school which was criticised in a report in 2013.
When Ofsted visited the school for a monitoring visit in April this year, the inspectors report again criticised governance at the school but made no mention of any of the kind of issues at the centre of the Birmingham controversy. In a letter to the head, the inspector said: "Actions by members of the governing body are increasingly undermining the capacity of senior leaders and slowing decision making, in part, because governors are becoming too involved in operational matters."
When Carlton Bolling College was last inspected by Ofsted in January 2013, the watchdog found it was a "good" school in all areas. The report said: "The quality of teaching is good and is more consistent across the school. Indeed, there is more outstanding teaching than the school has known previously. Relationships between students and between students and adults are strong."
And it said: "The school develops students' spiritual, moral, social and cultural development well. Students are rewarded for their use of 'shared value' words, for example 'diversity', 'respect', 'dignity' and 'honesty'."
An Ofsted spokewoman said today: "For obvious reasons, we never discuss our inspection programme due to the fact that inspections are carried out with little or no notice. Where appropriate, we will carry out inspections where concerns about a school are raised with us or where our own risk assessment processes show it is required, including schools in Bradford."
Earlier this year the council removed Laisterdyke's governing body and introduced an interim executive board.
Yorkshire Post, 11 June 2014