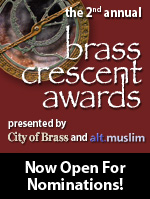 Yusuf Smith draws our attention to the fact that nominations have been opened for the second annual Brass Crescent awards, for the best blogs either by, or of interest to, Muslims.
Categories are: Best Mid-Eastern or Asian blogger, Best Group Blog, Most Deserving of Wider Recognition, Best Thinker, Best Female Blog, Best Post or Series, Best Non-Muslim Blog and overall Best Blog.
I note that Islamophobia Watch has received a couple of nominations in the Best Non-Muslim Blog category, including one from Yusuf himself, for which many thanks, though I rather suspect we'll lose out to Juan Cole.
See Indigo Jo Blogs, 29 December 2005
For details of the awards, see City of Brass, 23 December 2005