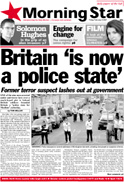 One of the nine men arrested under anti-terror laws over a much-hyped plot to behead British soldiers branded Britain a "police state for Muslims" on Thursday.
Abu Bakr, who was among eight suspects who were seized from their homes in a series of aggressive dawn raids in Birmingham last Wednesday, asserted that the aim of the operation had been to distract attention from the cash-for-honours inquiry, in which Prime Minister Tony Blair and new Labour are accused of offering honours to fat cats who fork out funds to the cash-strapped party.
Mr Bakr, who is one of two men who have since been released without charge, said: "I personally believe it was to do with the incident around Tony Blair.
"With Lord Levy being arrested and Tony Blair being questioned, to take attention away from that, this big plot was leaked to the press."
Gory details of the alleged "Iraq-style" plot to kidnap and behead a British Muslim soldier were leaked to a small group of reporters in anonymous briefings that have since been attributed to "Whitehall sources."
Civil rights group Liberty is concerned that so-called Whitehall briefings about the operation may have compromised "the best efforts of the local police service to brief the public in a timely, orderly, lawful and open manner."
Liberty has asked Home Secretary John Reid whether special advisers may have briefed certain journalists off the record, thereby prejudicing fair trials.
It is also concerned that, when the same personnel brief journalists on proposals to, for example, bring fundamental changes to the law to extend pre-charge detention in the same week or same breath, party politics may be trumping public safety considerations.
Mr Bakr's lawyer Gareth Peirce has sent a letter asking West Midlands Police to find out "who made these false, malicious claims" and she reported that she was "awaiting a response with interest."
Former police chief superintendent Lord Mackenzie of Framwellgate dismissed Mr Bakr's claims of Britain being a police state for Muslims as "absolute nonsense. You tell that to the many Muslims that were killed and injured in July 2005 – they want these terrorism incidents reduced and stopped," the Labour peer said.
Birmingham Respect councillor Salma Yaqoob also disagreed with Mr Bakr's claim that Britain is a police state, noting that "we still have a free press in which we can discuss these issues," but she pointed out that the raids were counterproductive.
But she added: "The terrorists want to create fear in our communities and that is just what these false rumours and lurid media speculation does. The whole Muslim community in Birmingham has been 'on trial' since the story broke, with people facing 'Paki terrorist, go home' taunts and abuse."
A Jewish Socialist Group spokesman said that his organisation was concerned about the British state's creeping authoritarianism and he declared "our solidarity with all people who are on the recieving end," adding: "We need to strengthen a broad-based, vigilant, united anti-racist movement to ensure that Britain does not become a police state."
And a National Assembly Against Racism spokesman condemned the "collective punishment of the Muslim community," noting that the heightened racist climate that follows in the wake of such high-profile raids "hurts everyone because the BNP thrives in such a climate – and the BNP attacks all minorities, not just Muslims."
Morning Star, 9 February 2007