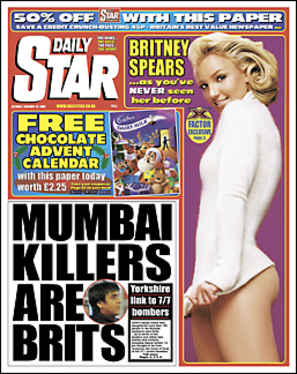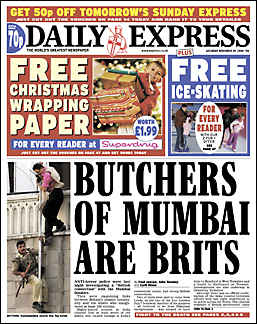 Both the Daily Express and the Daily Star assure their readers that British citizens were involved in the Mumbai terrorist attacks. Under the headline "Brit terror nuts shoot girl, 13, dead" the Star reports:
"The Mumbai massacre that left more than 150 people dead was carried out by Brits, it emerged last night. Police from the UK and India are probing claims that up to seven of the assassins, whose victims included a 13-year-old girl, travelled from the UK.
"Indian security forces said at least two of the captured terrorists were British-born Pakistanis, while the total number could be as many as seven. In a sick twist, they are thought to have possible links to Yorkshire towns where the 7/7 outrages were plotted.
"Last night UK police were using hi-tech computer software to link images of up to 25 gunmen to known Islamic fanatics."
Read on, however, and you find Gordon Brown quoted as saying: "At no point has the Prime Minister of India suggested to me there is evidence at this stage of any terrorist of British origins." And an unnamed security source states that there is "no specific information" linking suspects to the UK.
Which, of course, doesn't prevent the Star and Express using this tragedy to publish scaremongering headlines as part of their propaganda campaign against the UK's Muslim communities.
Nor is this malicious reporting restricted to Richard Desmond's rags. The Daily Mirror goes with "Seven Mumbai gunmen are from 'Leeds and Hartlepool'", while the Independent takes the opportunity to run a story entitled "British Muslims have become a mainstay of the global 'jihad'".
The Guardian, to its credit, has "Gunmen not from UK, Foreign Office insists".
Update:  See ENGAGE, which urges its supporters to write and complain.
Further Update:  See also the excellent piece at 5 Chinese Crackers, 30 November 2008