British Muslims are bracing themselves for a backlash after the beheading of David Haines by Islamic State militants, leading community figures have said.
Harun Khan, deputy secretary general of the Muslim Council of Britain, said a backlash was experienced virtually every time violence carried out by extremists who claimed to act in the name of religion received high-profile media coverage.
Anxiety among Muslim communities was already heightened this weekend before news of Haines's murder, after a mosque in Rotherham was attacked in the wake of a protest by the extremist English Defence League.
Khan said: "Somebody somewhere is going to react, it's been proven, it's happened many times: after 9/11, after 7 July [2005 attacks on London] and after [the murder of] Lee Rigby."
He said the greatest fear was of attacks on Islamic buildings such as mosques, and on vulnerable people, such as women wearing the hijab.
At the East London mosque in Tower Hamlets worshippers said the risk of reprisal attacks in the UK increased with each new report of violence. "Isis and the beheading is not something we recognise at all," said Amir Younis, 42. "Everyone I've spoken to regards those people as complete lunatics. We don't know who they are, they've come from nowhere, and all of a sudden they're claiming to represent the whole of the Muslim community.
"But in terms of Islamophic reprisals, I don't think things are going to get any worse than they already are. Islamophobia is something that the Islamic community needs to stop tolerating – we allow people to say the most ridiculous things."
Two young women visiting the mosque, Aysha Islam and Shakila Hoque, said news of the beheading of Haines would spur on the EDL. "People talk about it a lot," said Islam. "This area is more safe than places like Luton, but you never know what's going to happen."
She added: "They [Isis] divide people into believers and non-believers. But that's not really what Islam is about. We see everyone as one; everyone is equal."
"There's always a fear," said Ifta Ahmed. "Whenever something like this happens, you never know what is going to happen in response. But we all condemn what's happened. For them to use the name Islam is wrong."
The monitoring group Tell Mama said there had been a spike in anti-Muslim incidents after the release of a video showing the beheading of US journalist Steven Sotloff nearly a fortnight ago. Extremists were also making threats online, using social media platforms.
Police have a system of tension indicators to monitor strains in community relations, and will be assessing those and other intelligence in the coming days.
---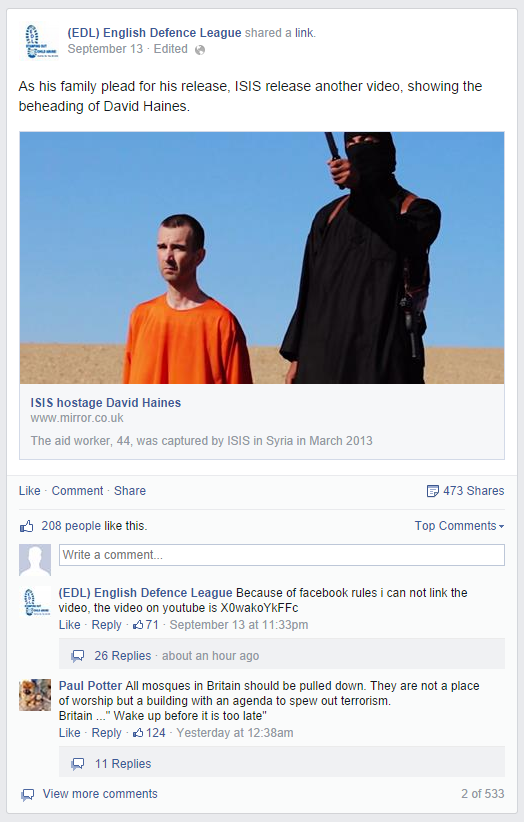 Here are some more comments from EDL supporters: