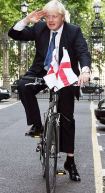 Reflecting on the Gillian Gibbons case in today's Daily Telegraph, Boris Johnson expresses his regret at the passing of British imperial power and looks back with nostalgia to the days of Palmerston:
"There was a time when Britain would have sent a gunboat to rescue her. There was a time when MPs would have been holding furious debates on the matter, and bandying phrases such as 'civis Britannicus sum'. In the old days there would have been démarche from Britain to Sudan, warning that His Majesty's government would not suffer a hair on her head to be disturbed."
Alas, "that time is past", and we must look for other solutions. So Boris pompously lectures British Muslim leaders on their obligation to challenge the Sudanese government. True, Boris does admit that Dr Muhammad Abdul Bari, secretary general of the Muslim Council of Britain, has issued a statement calling for Ms Gibbons' release.
Indeed he has. Dr Bari stated that he was "appalled" at the prosecution of Ms Gibbons. He went on to say: "This is a disgraceful decision and defies common sense. There was clearly no intention on the part of the teacher to deliberately insult the Islamic faith. The children in Ms Gibbons's class and their parents have all testified as to her innocence in this matter. We call upon the Sudanese President Omar al-Bashir to intervene in this case without delay to ensure that Ms Gibbons is freed from this quite shameful ordeal."
Boris doesn't in fact bother to quote this statement but comments: "Let's hear more of the same. Let's see Muslim MPs on the news, appealing to Sudan to show reason."
Doesn't Boris read the papers? Even though the media has not exactly fallen over itself in a rush to publish statements about the case by British Muslims, it's not been impossible to find them. Shahid Malik, minister for overseas development, responded to the news of Ms Gibbons' arrest by saying that she should be praised for the work she has done teaching Sudan's children, not locked up: "I'm gobsmacked. This is a terrible mistake. As far as I am concerned this is not Islam. There was no malice intended whatsoever. It seems 100 per cent purely innocent."
Boris also writes: "If you want grounds for despair, read the entries on the BBC website, in which some British Muslims say that she should be punished; or read the entries from people in Sudan saying that the children should be punished." Actually, if you want grounds for real despair, you'd do better to read some of the vile racist comments posted on the Sun and Daily Express websites. But that sort of thing is apparently of little concern to right-wing politicians like Johnson.