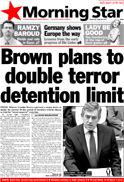 Brown plans to double terror detention limit
By Louise Nousratpour
Morning Star, 26 July 2007
Prime Minister Gordon Brown expressed a strong desire to double the current 28-day period of detention without charge or trial for "terror suspects" on Wednesday. But human rights campaigners slammed the proposal, warning that such an "assault on human rights and freedoms" would amount to internment.
During a speech on the "war against terror," Mr Brown told MPs that the government would put forward a package of measures designed to combat terrorism. These include proposals to extend the pre-charge detention period to 56 days, allowing intercept evidence to be used in court, giving police powers to question suspects after they have been charged and placing a "highly visible" uniformed force at all ports and airports. The phone tapping and post-charge questioning proposals were first tabled by civil rights group Liberty.
Left MP John McDonnell vowed to monitor the proposals "very closely" once they are put to Parliament. He branded the plans "an unacceptable breach of human rights based upon unproved assumptions which will result in human suffering and miscarriages of justice."
Stop the War Coalition convener Lindsey German urged MPs to defeat Mr Brown's draconian proposals, just as they saw off his predecessor Tony Blair's "disgraceful" plans to introduce a 90-day limit.
"These measures have nothing to do with stopping terrorism and everything to do with creating a climate of fear, where police and the government are given unprecedented powers," she argued. "This is a complete betrayal of every aspect of our civil liberties and the millions of Labour supporters, many of who thought they would get better from Gordon Brown."
Ms German warned that the proposals aimed to "criminalise communities – young Muslim men in particular." She insisted: "The terror attacks in recent years, which many believe are the result of Britain's foreign policy, will only stop once we pull out of Iraq and Afghanistan."
Nicola Duckworth of Amnesty International UK said that the government had forgotten "the lessons of Northern Ireland in the '70s, where internment had devastating consequences for those affected and a disastrous impact on human rights, the rule of law and society as a whole."
Love Music Hate Racism director Weyman Bennett warned that there was an uncomfortable whiff of racism about the plans.
"These proposals will not help and have previously been used to target black and Asian people in this country," he said. "The people he wants to target will find a way around these proposals."
But Liberty welcomed the government's decision to include its plans to introduce phone tapping and post-charge questioning as "more proportionate alternatives" to extending pre-charge detention to fight terrorism.
Mr Brown also wants to spent £6 billion of public money on biometric ID cards for foreign nationals staying in Britain for more than six months by the end of 2008, a year earlier than for British citizens. "Such an identity scheme will help prevent people already in the country using multiple identities for terrorist, criminal or other purposes," Mr Brown claimed.
But NO2ID co-ordinator Phil Booth observed that "Gordon Brown is parroting Tony Blair's bullying line and is trying to scare the public about foreigners." He insisted that there was no evidence that the scheme will prevent terrorism, adding: "Mr Brown is playing the terrorism card to drive up the collapsing public support for ID cards."
Some 4,000 foreign prisoners may also be deported this year as part of the Premier's headline-wooing anti-terror measures.