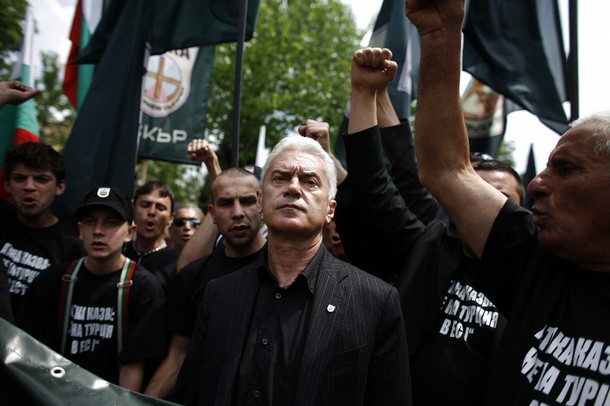 Volen Siderov with Ataka members outside Sofia mosque last Friday
A Bulgarian National Radio (BNR) talk show about the May 20 clash between Ataka and Muslims outside Sofia's Banya Bashi mosque went off air for some minutes after Ataka leader Volen Siderov and independent MP Korman Ismailov clashed in the studio.
The broadcast of the Nedelya 150 programme on May 22 was replaced by music for about five minutes after matters became heated, with Siderov telling Ismailov: "you are bearers of radical Islam. You are bearers of extremism. You are a danger to the entire Europe".
There has been widespread condemnation of Ataka for the May 20 incident which led to injuries and arrests after ultra-nationalists protesting against the use of loudspeakers to relay the call to prayer got into a fight with Muslims outside the mosque.
BNR's Velichko Konakchiev told Bulgarian National Television that Siderov had started the clash with Ismailov, who said that the Ataka leader was ruining Bulgaria's image. Ismailov said that people at the mosque had simply been defending themselves against assaults by Ataka supporters.
Siderov said that there should be a stop to hypocritical statements about ethnic peace when Sofia's city was a "nest of Islamists". It was a mistake to turn a blind eye and it would be too late, according to Siderov, "when one of them blows up the underground railway in Sofia".
Bulgarian media reported that an online petition had been launched to ask Prosecutor-General Boris Velchev to request Parliament to vote to lift Siderov's immunity as an MP from prosecution, while in response to an online campaign, people have been visiting Banya Bashi to lay flowers in a gesture of apology to Bulgaria's Muslims for the May 20 incident.
BNR director-general Valeri Todorov said in a statement that it was unacceptable for the airwaves of the country's public broadcaster to be used to incite ethnic, religious and national animosities.
Update:  See "Bulgaria shocked as nationalist leader triggers brawl on air", Novinite, 22 May 2011