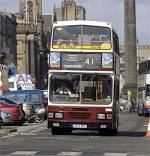 Edinburgh's bus drivers have been told they will not have to ask Muslim women to remove their veils after all.
A row broke out earlier this year in the wake of new guidelines issued to Lothian Buses staff as part of a crackdown on fare cheats. Drivers said they had been told to tell women to lift their veils or produce photo ID if they wanted to use a bus pass. The move sparked anger in some sections of the Muslim community, with at least one woman said to have walked off a bus.
But bus chiefs today insisted the new rules had been misunderstood and have issued fresh guidelines insisting that drivers should never ask for a veil to be removed. The firm has also worked with some of the city's faith groups to produce a multilingual guide that explains the different options open to Edinburgh's veiled women who want to use a bus pass. Unions and faith groups today welcomed the leaflet explaining the new rules.