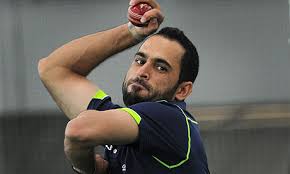 Cricket Australia chief James Sutherland has lashed out at "racist comments" directed at Muslim Fawad Ahmed after the leg-spinner asked not to wear a kit displaying the logo of beer brand VB.
Pakistan-born Ahmed, who became an Australian citizen in July after his application was fast-tracked, did not have the logo on his shirt during his international debut in last week's T20 matches against England.
It emerged Tuesday that he had "expressed discomfort with the conflict this created for him, due to his religious beliefs". Cricket Australia agreed with his request to wear an unbranded shirt, but this sparked critical comments on the Cricket Australia website and other social media.
"Legitimate reason RELIGION, no its not, it's a game of cricket, not praying at a church," said one reaction. "It is driven by money and fans not by religious fanatics. Those who don't like the Australian culture should leave, or keep misguided values to themselves."
Sutherland said he was disgusted with such comments. "Cricket Australia would like to express its extreme disappointment over racist comments towards Fawad Ahmed on social media… some of which are falsely attributed to former Australian cricketer Dean Jones," he said in a statement late Tuesday.
"CA does not condone racism in any way, shape or form. CA is fully supportive of Fawad's personal beliefs and he is a valued and popular member of the Australian cricket team and the wider cricket community."