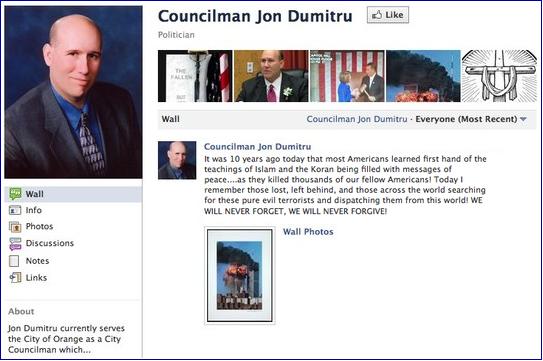 The Greater Los Angeles Area office of the Council on American-Islamic Relations (CAIR-LA) today called on the City of Orange Councilman Jon Dumitru to apologize for an anti-Islam Facebook posting in which he falsely linked the "teachings of Islam and the Koran" to the 9/11 terror attacks.
On the anniversary of 9/11, the Councilman posted a picture of the burning Twin Towers on his official Facebook page, and wrote underneath: "It was 10 years ago today that most Americans learned first-hand of the teachings of Islam and the Koran being filled with messages of peace….as they killed thousands of our fellow Americans! Today I remember those lost, left behind, and those across the world searching for these pure evil terrorists and dispatching them from this world! WE WILL NEVER FORGET, WE WILL NEVER FORGIVE!"
CAIR-LA sent a letter to the Councilman today informing him of the offensive nature of his comment and called on him to apologize to American Muslims. The letter also asked the Councilman to meet with members of the American Muslim community to discuss the negative impact of his inflammatory remarks.
In the letter, CAIR-LA Executive Director Hussam Ayloush wrote:
"Your hateful statement in which you falsely insinuate that the teachings of Islam and the Quran would allow the terrorist attacks of 9/11 is deeply troubling to all Muslims, including many who live in your city. Muslims across the world, especially those here in the United States have unequivocally condemned the 9/11 attacks and all forms of terrorism. Using the tragedy of 9/11 as an opportunity to spread misinformed views about Islam and the Quran is a failure of leadership.
"At a time when our entire nation was mourning that tragic day and emphasizing unity among all Americans, you unfortunately decided to falsely blame an entire faith community. We have learned from history that such smears and stereotypes have only led to scapegoating of entire communities."
CAIR-LA press release, 15 September 2011
---
Mind you, Jon Dumitru does have his admirers. Pamela Geller for one. Over at Atlas Shrugs she hails Dumitru as a patriot who is under attack from one of the "un-indicted co-conspirator Muslim Brotherhood groups that are working towards this nation's destruction". Geller urges her supporters to "rally behind the courageous Councilman" and email him messages of support.
And the Christian News Wire has issued a press release from Dr Gary Cass of DefendChristians.org who demands: "Can anyone blame Dumitru for his feeling after seeing hundreds of his fellow first responders killed in the name of Allah?" Cass denounces CAIR's complaint as "just another ploy to keep Americans off balance when confronting the threat of encroaching Islam".