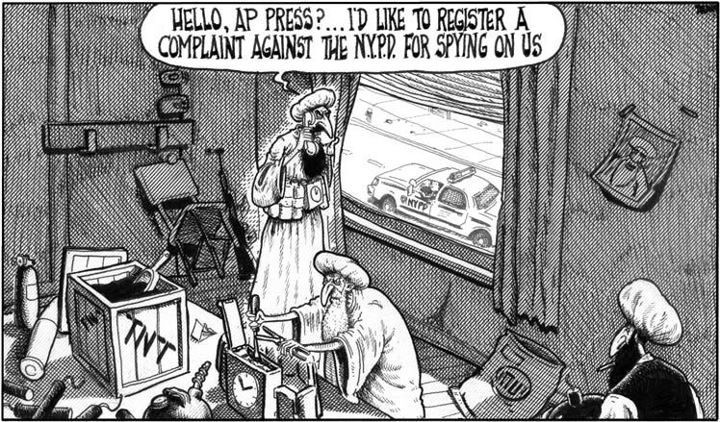 The Council on American-Islamic Relations (CAIR) today called on the New York Post to apologize for publishing a political cartoon that the Muslim civil rights group says "evokes anti-Semitic themes" through its depiction of hook-nosed terrorists objecting to the New York City Police Department's (NYPD) widespread campaign of spying on Muslims without warrants or evidence of wrongdoing.
CAIR is also asking American Muslims and other people of conscience to contact the newspaper and to politely ask that they apologize for the offensive cartoon. E-Mail: letters@nypost.com, Copy to: info@cair.com
The cartoon by Sean Delonas was published Friday in the Post and shows the turban-wearing, hook-nosed terrorists preparing bombs and weapons in an apartment, with an NYPD vehicle in the street. One of the terrorists is depicted on the phone with The Associated Press news agency, and says: "Hello, AP Press? … I'd like to register a complaint against the N.Y.P.D. for spying on us."
The cartoonist's reference is to a series of Associated Press investigative articles exposing the NYPD's spying on Muslim individuals, students, businesses, and religious institutions – a campaign that has been condemned as unconstitutional by American Muslim and civil liberties groups.
CAIR press release, 26 February 2012
See also Glenn Greenwald, "Abject bigotry at the New York Post", Salon, 25 February 2012