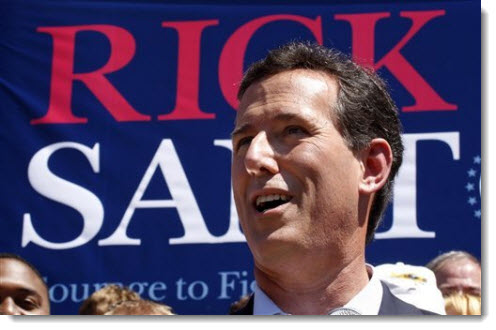 A national Muslim group is calling out Rick Santorum for supporting religious profiling against Muslims, and appealed Wednesday to the Republican Party to rebuke Santorum for his views.
In a national security debate Tuesday, the former Pennsylvania senator and GOP presidential candidate said he would support profiling Muslims at airport checkpoints as a tactic to protect against terrorist attacks.
"Obviously Muslims would be someone you'd look at, absolutely," Santorum said. "The radical Muslims are the people who are committing these crimes, by and large, as well as younger males – not exclusively, but these are things that you profile to find your best, most likely candidates."
The Council on American-Islamic Relations pointed to a number of other comments Santorum has made about Islam and Sharia law, and called for the GOP candidates to reject rhetoric that denigrates Islam.
"Last night, Rick Santorum casually tossed aside every American's constitutional right to equal protection under the law in favor of discriminatory profiling of Muslims," Corey Saylor, the group's legislative director, said in a news release. "Mr. Santorum's obvious lack of appreciation for the Constitution and for the rejection of profiling by top law enforcement experts raises reasonable questions about his ability to lead our multi-faith nation."