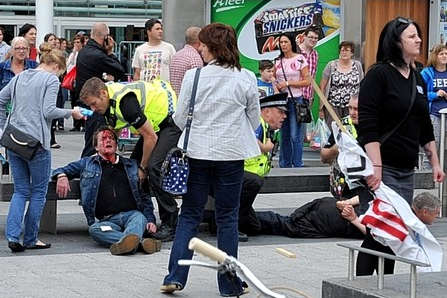 Calls have been made to ban any future English Defence League (EDL) protests in East Yorkshire. It comes after a man was injured in front of horrified shoppers and families at St Stephen's in Ferensway.
A member of the 300-strong EDL protest broke free from police and hit the man yards from where children were on a funfair roundabout. The man was injured moments after unfurling a banner promoting multicultural Hull.
Today, Daren Hale, deputy leader of Hull City Council, said he would be seeking a meeting with police to discuss having these marches banned from the city. He said:
"It is completely unacceptable and this is the sort of thing we were worried about. I think these should be banned now. I will always want to defend people's freedom of speech but, in my opinion, the intention of this march was to cause distress and upset in our community and that is exactly what happened. They would not have had the opportunity to do this had the march not proceeded."
Four arrests were made in connection with the march, with none of those arrested coming from Hull. Mr Hale said: "They are not from here but Hull will get the bad reputation from this. People will be put off visiting the city and it could potentially undermine what we are trying to do. We know Hull is a safe and welcoming city and we don't want people from out of town coming in causing trouble."
Members of the public said some of the protesters appeared drunk and were throwing beer over members of the public. Matthew Phillips, 28, said: "It was disgraceful. There were families around and it was totally inappropriate."
George McManus, Labour spokesman for Beverley and Holderness, was standing close to the man who was injured. He says he believes there is now enough justification and evidence for Humberside Police to apply for a ban on EDL marches in the force area. He said:
"They were shouting Muslim obscenities all the way down Spring Bank. It was quite admirable that the people living there never rose to it. I do not think these marches should be allowed to go ahead. I believe 110 per cent in people's right to demonstrate but with rights come responsibilities. If you can conduct yourself responsibly then you can enjoy that right.
"What the EDL showed is they should not have that right. Humberside Police filmed the whole thing and I think they have enough evidence to apply for a ban."
The injured man is recovering at home with concussion and ten stitches in his head. His friends told the Mail they were shocked and stunned by what happened. A friend, who asked not to be identified, said: "We are proud to be part of a multicultural Hull. We came out to say the majority of people do not agree with any of this. We want to live peacefully together and this happens."
Hull Daily Mail, 19 August 2013
Update:  See also "Hull MP calls for EDL march ban", BBC News, 19 August 2013