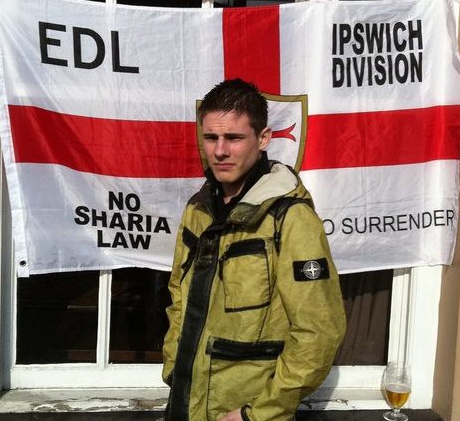 A pub landlord has been sacked after racist and violent comments were posted on his Facebook page.
Ben Green, 23, ran The Salisbury Arms in Tenison Road, Cambridge, after being given the responsibility by his parents David and Angela. Green has now been sacked and barred from the premises by his parents, who are the licensees of the pub.
The comments on his Facebook page have been condemned by both them and the pub's brewery, Charles Wells, who described them as "disgusting".
Comments on the page attributed to Green, who is a member of the EDL, included racist chants and descriptions of how he wants to go out and fight with "dirty Muslims". One status update describes how Green is planning to have sex with a Pakistani woman and then tell her he is an EDL supporter so that "she'll hate herself". One comment states: "Hate everything Islam stands for. Hate all these women in Cambridge in burkas as well."
Other comments also suggested Green would regularly get into fights at the weekend. Listed among his personal interests are "attending demos with my EDL family", "football violence" and "football hooliganism".
A statement from his parents said: "Ben has been sacked with immediate effect as this sort of behaviour can not and will not be tolerated. The management of The Salisbury Arms would like to apologise unreservedly to anyone who was offended and upset by the stupid actions of this young person.
"He has let us down as employers and parents, and he has put our business and reputation under threat. Once again we are so very sorry about this. He has already been moved out of The Salisbury Arms and is no longer welcome in the pub."
Green became the youngest landlord in Cambridge when he was appointed.
The Salisbury Arms is tied to the Charles Wells brewery. A spokeswoman for Charles Wells said: "We find the views expressed by Ben Green on his personal Facebook page disgusting and they do not reflect either our own opinions or those of the licensees of The Salisbury Arms. These views cannot and will not be tolerated and we're able to confirm that Mr Green has been sacked from his role as manager of the pub and barred from the site.
"We are sorry for the undoubted offence his views have caused and will work with the licensees to restore the faith in the pub that he alone has sought to bring into disrepute and trust that the local community will be able to disassociate the unacceptable beliefs of one individual from the pub and everyone else associated with it."
Cambridge News, 25 November 2011
See also Cambridge First, 25 November 2011

All credit to EDL News for exposing this racist.