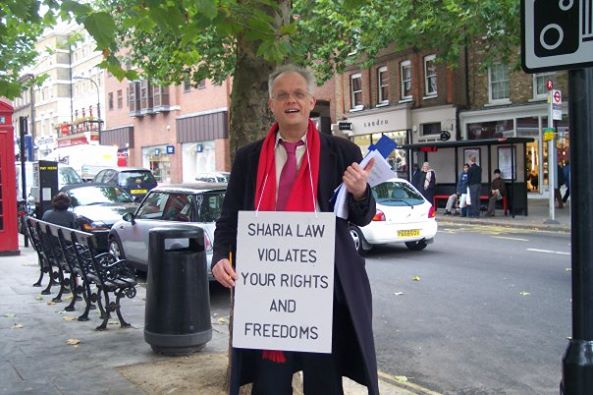 A UK Independence Party (Ukip) candidate who made national headlines for describing Islam as "organised crime" says he does not regret making the comment and insists it is backed up by "quotations from the Quran".
Camden Ukip chairman Magnus Nielsen, 64, who is bidding to become a councillor in West Hampstead, has made numerous posts on his Facebook page about the religion, including one in which he says "Islam is organised crime under religious camouflage".
After the post was picked up the national press last week, Mr Nielsen spoke to the Ham&High about his comments. He said: "I don't regret anything I've said. Whatever I said, I say having taken proper study of the circumstance and everything I said can be backed up by quotations from the Quran. What I have not said is that all Muslims are criminals, I don't believe that is true.
"Islam is created by a man called Muhammad who was a gang leader of criminals and he justified his behaviour by saying he was instructed by god to behave that way. He was able to inspire followers to commit criminal acts using the justification of religion.
"It is a hot topic. We've just had Muslim infiltration in Birmingham schools, we have Muslim rape gangs in the north of the country and we have Muslim patrols in Tower Hamlets. It has to be stood up against and nothing is going to happen until the public start electing people who are in a position to stem the tide."
Hampstead & Highgate Express, 30 April 2014
---
"What I have not said is that all Muslims are criminals, I don't believe that is true." This from the man who has written: "Any Muslim who is not involved in organised crime is not 'a true believer', practising Islam as Muhammad commanded." So, according to Nielsen's formulation, the only Muslims who are not criminals are those who don't actually follow their own faith.
Meanwhile, Maajid Nawaz – who is the Lib Dems' prospective parliamentary candidate for Hampstead & Kilburn – has reacted "with some apprehension" to Nielsen's Islamophobic remarks. He suggests that Nielsen should stick to attacking "Islamism the political ideology".
Nawaz doesn't seem to have any objection to Nielsen standing for election to Camden Council, though. The Ham & High reports him as stating: "I call on Nigel Farage to condemn Mr Neilsen's failure to distinguish between Islam and Islamism." But not, apparently, to withdraw UKIP's endorsement of Nielsen's candidacy.