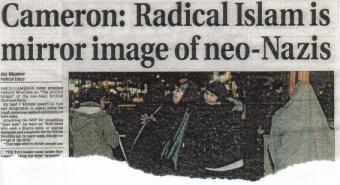 David Cameron today attacked radical Muslims as "the mirror image" of the neo-Nazi British National Party. He used a keynote speech on race and integration to signal plans for tough measures against extremists on both sides.
Attacking the BNP for preaching "pure hate", he went on: "And those who seek a Sharia state, or special treatment and a separate law for British Muslims are, in many ways, the mirror image of the BNP."
Speaking this afternoon at the New Testament Church of God in Handsworth, Birmingham, Mr Cameron was set to say that many barriers to integration were the fault of politicians. Multiculturalism, he was due to say, was "manipulated" to separate communities rather than help them live together.
Evening Standard, 29 January 2007
See also BBC News, 29 January 2007
For the text of Cameron's speech, see here.
For Osama Saeed's comments see Rolled Up Trousers, 29 January 2007
The appalling Martin Bright declares his support for Cameron ("His comments on radical Islam being the mirror image of the BNP are spot on") at the New Statesman, 29 January 2007
For the fascists' response see BNP news article, 29 January 2007