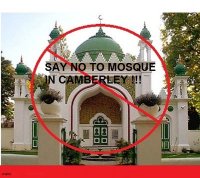 Controversial plans to build a mosque with two towering high minarets next-door to Sandhurst will be aired at a public inquiry that begins tomorrow.
The £3million building would have had a clear view over Britain's top military academy and is just 400 yards from its parade ground – prompting fears it could be a security threat.
Plans to demolish a listed Victorian school building to make way for the huge Arab-style building were initially approved last year. But, after the intervention of army chiefs, the local MP and education secretary Michael Gove, and 7,000 residents who signed a petition, Surrey Heath Borough Council changed their mind.
Now planning officials will make their final decision though a six-day public inquiry after an appeal by the Bengali Welfare Association, which worships at the former school in Camberley.
There remains fierce opposition and angry locals expected to queue from the early hours of tomorrow morning to get in the Camberley Theatre, which only seats 360.
The Save Our School group, which organised the anti-mosque petition, said it was planning to hire lawyers for the inquiry.
Local residents were outraged that the association wanted to knock down the historic building to make way for the new mosque.
They were also concerned at the scale of the proposed new building, particularly the 100ft-high minarets, which locals said were out of character with the district's architecture.
Alan Kirkland, from Save Our School, told The Guardian: "There is nothing in the Qur'an that says you should have domes and minarets. They need a mezzanine floor that is for women only. To most people, that's objectionable."