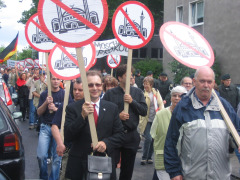 From London's docklands to the rolling hills of Tuscany, from southern Austria to Amsterdam and Cologne, the issue of Islamic architecture and its impact on citadels of "western civilisation" is increasingly contentious.
The far right is making capital from Islamophobia by focusing on the visible symbols of Islam in Europe. In Switzerland it is the far-right SVP that is setting the terms of the debate.
Next door in Austria the far right leader Jörg Haider is also calling for a ban in his province of Carinthia, even though there are few Muslims and no known plans for mosques. "Carinthia," he said, "will be a pioneer in the battle against radical Islam for the protection of our dominant western culture."
In Italy the mayors of Bologna and Genoa last month cancelled or delayed planning permission for mosques after a vociferous campaign by the far-right Northern League, one of whose leaders, Roberto Calderoli, threatened to stage a "day of pork" to offend Muslims and to take pigs to "defile" the site of the proposed mosque in Bologna.
While the far right makes the running, their noisy campaign is being supported more quietly by mainstream politicians and some Christian leaders. And on the left pro-secularist and anti-clericalist sentiment is also frequently ambivalent about Islamic building projects.
Cardinal Joachim Meisner of Cologne has voiced his unease over a large new mosque being built for the city's 120,000 Muslims in the Rhineland Roman Catholic stronghold. A similar scheme in Munich has also faced local protests.
The Bishop of Graz in Austria has been more emphatic. "Muslims should not build mosques which dominate town's skylines in countries like ours," said Bishop Egon Kapellari.