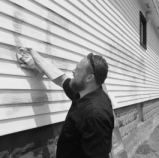 Codiac RCMP are attempting to link a series of spray-painted messages, including swastikas and racist declarations, at five different Moncton locations during the last 48 hours.
Two large swastikas and racist messages were spray-painted on the side of Moncton's two-year-old mosque on High Street. One swastika was painted in black, while the other and the message were painted in red.
"Why?" asked worshipper Abdullah Delancey as he attempted to scrub the thick paint off the vinyl siding during yesterday afternoon's heat wave. "It scares our kids. In fact, it scares a lot of our members. That's probably why I am the only one here working on this. Some of our members are afraid to come back."
Other offensive messages were found during the last two days at the Tiferes Israel Synagogue on Steadman Street, the Mapleton Road Shell station and Beaverbrook School and St. Hubert restaurant, both on Mountain Road.
At the mosque, Delancey, who also serves as a volunteer chaplain at The Moncton Hospital and is the father of seven and nine-year-old children, was confused by the hate crimes. "It's sad because people come here to pray and it is a place of peace," the 38-year-old Monctonian said. "In the past, we've had people throw rocks through the front window and now we have this."