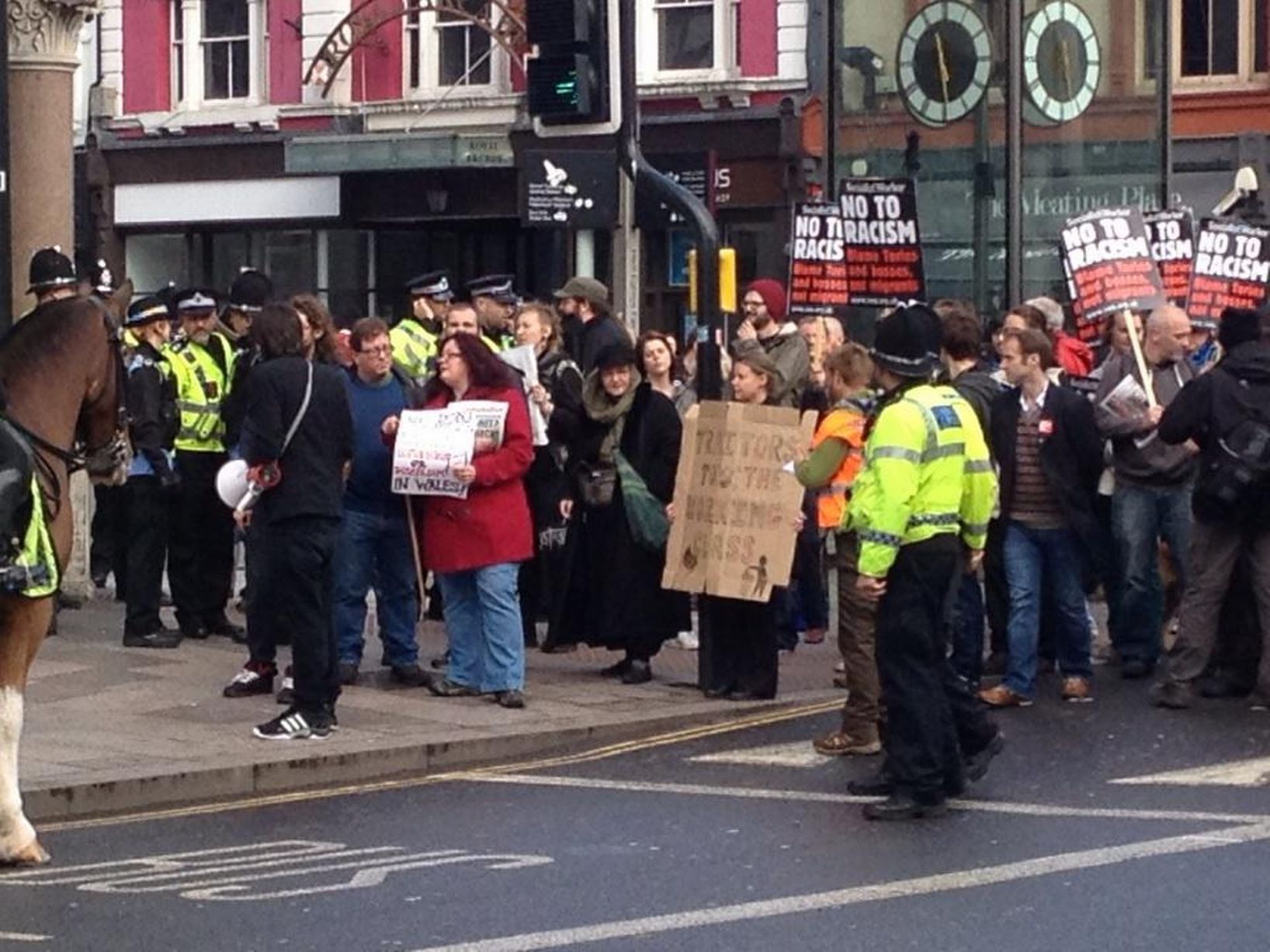 Police officers have lined the streets of Cardiff city centre, where a demonstration by a group called the Welsh Alliance is taking place. Anti-fascist protesters have gathered in the city centre in protest of the march, which is set to end at City Hall this afternoon.
Beforehand, members of the Welsh Alliance gathered at pubs near the city's Mill Lane and bottom of St Mary Street, where they were advised by on their Facebook group: "no banners, flags or chanting inside please".
Members were told to gather in front of Cardiff Central Station before marching to City Hall for speeches. The Facebook group advised "please leave any racist banners at home". The group claim on Facebook they are "Welsh patriots" who are "fighting mass immigration".
Anti-fascism protesters gathered at the bottom of St Mary Street with their own banners to counter the demonstration in "a united front" to show "racism in any guise in not accepted in Cardiff".
One campaigner opposing the Welsh Alliance was Mia Hollsing, 26, from Mountain Ash. She said: "I think there's a lot of police here, a bit too many in my view.
"We need a diverse society where everyone is welcome regardless of where they are from and what they believe in. It the rich people that are causing the problems in this country, not ordinary workers, wherever they come from. We are here peacefully – none of us are violent.
"We are chanting and making our voices heard, but that is our right. We don't want to see any violence here today, that's not what we are here for, but that doesn't mean we are willing to let racism go unchallenged."
There were around 40 protesters with the Welsh Alliance. One, who asked not to be named, said he felt compelled to travel from his Valleys home to the streets of Cardiff "to protect his children's future". He said: "Our plan is a peaceful protest march through the streets, making a few speeches and getting our point across."
A South Wales police spokesman said: "It's ongoing. We were fully aware of the plans for today. As you would expect there are officers on duty. People have a right to peaceful protest.
"If there is anything untoward we will let you know. It's the Welsh Alliance, I think they are from North Wales. Originally we were not expecting that many."