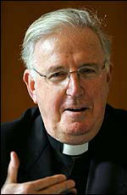 Britain's most senior Roman Catholic leader has called on Muslims to join forces with the Church to fight for "genuine religious freedom".
Cardinal Cormac Murphy-O'Connor, the head of the Church in England and Wales, said that since the September 11 terrorist attacks on America, public opinion had become suspicious of religion in general and of Islam in particular. It was now necessary, he said, for the followers of the two faiths to unite to uphold religious freedom as a "natural right of every human being to be respected by every government".
The Cardinal said that the problem of Islamist terrorism had "created an atmosphere where ordinary Muslims feel very uncomfortable and unfairly singled out by people who often seem not to understand them at all". The "spotlight has been firmly locked on to Islam", he said, adding that as a result Muslims often felt "misrepresented or at least misunderstood by our media and in public opinion".
He said that although British authorities tended to treat religious communities with respect it was a difficult time for those involved in governing and policing society. Muslims and Christians together had to fight against those who wished to "make sure religion had no public voice", the cardinal said.
"The space for dialogue between our religions and our culture has to be a public one," he added. "In other words, religious communities need to be able to operate with a certain degree of autonomy. If politicians at national or local level – or even academics, for that matter – think they know what is best for religions, they will not act in our best interests, and could well be tempted to try to manipulate the ways we contribute to society."