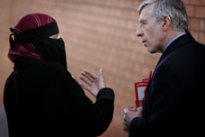 Commons leader Jack Straw has been the subject of a hard-hitting attack by former home secretary Charles Clarke for starting the national debate on the wearing of the full veil by Muslim women.
Mr Clarke accused his ex-cabinet colleague last night of "grandstanding" and of launching a discussion that had had an almost completely negative effect.
Speaking at the Royal Commonwealth Society in London, the Norwich MP pointedly complained that what he dubbed the "Great British Veil Controversy" had been "started by Jack Straw in his local Blackburn paper".
It "has been almost entirely negative in its impact and has done nothing to promote tolerance and understanding in our society", he continued. "Building respect in our society means more common sense and less grandstanding from everyone."